Byetta & Januvia Side Effects
Januvia and Byetta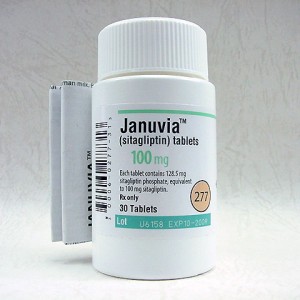 are drugs that treat Type 2 diabetes, a condition in which the body produces insufficient insulin and thus allows sugar to remain in the blood instead of being transferred to cells. Both drugs are incretin mimetics, medications that control an enzyme (DPP-IV) that blocks the release of insulin, though each work somewhat differently.
Byetta (exenetide) is manufactured by Amylin, Eli Lilly and Bristol-Myers and was approved by the FDA in 2005. It works by supplying proteins that are not affected by DPP-IV and stimulate insulin production. It is injected.
Januvia (sitagliptin) is manufactured by Merck and was approved by the FDA in 2006. It stops DPP-IV from working at all so that insulin is released and the body can process sugar correctly. It is taken orally.
Type II diabetes can have terrible consequences if left untreated; any pharmaceutical advance in the treatment of the condition is to be welcomed. The manufacturers of Januvia and Byetta claim that their drugs are both safe and effective treatments for the condition, and each drug has proven to be lucrative for its manufacturers.
Unfortunately, any benefits that Byetta and Januvia offer appear to be balanced by their own troubling side effects. These include serious complications related to the pancreas and thyroid which, in some cases, have led to the death of patients taking the drugs. Hundreds of patients and their families have now filed Januvia & Byetta lawsuits over these devastating and sometimes fatal side effects.
Serious side effects of Januvia and Byetta
The most serious side effects associated with Januvia and Byetta are:
Pancreatic cancer
Thyroid cancer
Death
Major medical studies carried out in 2013 linked the drugs to some or all of these side effects and the FDA has taken action to follow up on these findings.
Medical studies: Januvia, Byetta, and pancreatitis
Pancreatitis is an inflammation of the pancreas, a gland behind the small intestine and next to the stomach which releases enzymes and regulates hormones related to digestion. Pancreatitis can be acute or chronic, and can involve mild or severe symptoms. In the worst cases, the condition can involve pain, infection, cyst formation, damage to internal organs, and even death.
Pancreatitis symptoms generally include:
Abdominal pain that may radiate to the back
Pain while eating or bending forward
Nausea
Vomiting
Fever
Rapid heartbeat
Several major medical studies found links between the medications and elevated rates of pancreatitis:
2011: A study published in the journal Gastroenterology, which reviewed the FDA's adverse events reporting data from 2004 to 2009 found that patients taking Januvia or Byetta were more than six times as likely to suffer from pancreatitis compared with patients taking four other medicines used as controls.
February, 2013: A study comparing 1269 patients taking GLP-1 medicines (including Januvia and Byetta) with 1269 patients taking other diabetes medicines had the following outcome: 87 from the first group were hospitalized with acute pancreatitis; only 58 from the second group experienced acute pancreatitis requiring hospitalization. The study was carried out by Johns Hopkins University School of Medicine scientist and published in the JAMA-Internal Medicine.
April, 2013: The Institute for Safe Medication Practices publishes an analysis of data from the FDA showing that increasing numbers of patients taking medications including Januvia and Byetta suffered from pancreatitis.
Medical studies: Januvia, Byetta, and pancreatic cancer
Studies also link Januvia and Byetta to an elevated rate of pancreatic cancer, a type of cancer that has an extremely poor prognosis. Studies linking Januvia or Byetta to pancreatic cancer include the following:
The study published in Gastroenterology, and noted above, also detected a somewhat elevated rate of pancreatic cancer in patients taking the drugs.
Peter Butler, head of endocrinology at UCLA, conducted studies in 2008 that showed a connection between rodent Januvia consumption, and enlarged pancreases and pre-cancerous cell growth.
In March of 2013, Butler and colleagues published data showing that in the pancreases of organ donors who had died of non-pancreas related diseases, organs from patients who had taken Januvia and Byetta (8 of the 34 studies) were far more likely to have precancerous lesions and, in one case, a tumor, as well as abnormal cell growth.
The April 2013 Institute for Safe Medication Practices analysis also showed a higher rate of pancreatic cancer among patients taking Januvia or Byetta.
Januvia, Byetta, and thyroid cancer
Medical studies linking Januvia or Byetta to thyroid cancer have been less conclusive, though some cause for concern remains. The Gastroenterology study did not seem to indicate elevated rates of thyroid cancer in connection to the drugs, though the Institute for Safe Medication Practices analysis did detect elevated levels of thyroid cancer among those who were prescribed for the drugs, particularly for Byetta.
What does the FDA say about serious Januvia and Byetta side effects?
By 2009, the FDA had received reports of 88 adverse events involving pancreatitis associated with Januvia and Janumet (a combination of sitagliptin and another diabetes drug, metformin). These included two cases of hemorrhagic or necrotizing pancreatitis. The agency sent a warning letter to the manufacturers of Januvia in February 2012 regarding their failure to complete follow-up safety studies of the drug and requested additional rodent testing from the company.
The FDA has added warning label information for both drugs. For Januvia, labels now warn of pancreatitis, renal impairment, hypoglycemia and hypersensitivity reactions. They also note that the drugs do not have a positive impact on macrovascular outcomes (concerning conditions having to do with the large blood vessels). Byetta comes with these warnings, as well as warnings concerning possible gastrointestinal illnesses that develop in association with the medication.
Januvia has a black box warning for lactic acidosis.
Following the publication of the JAMA study and reports of the then unpublished study by Butler and colleagues, the FDA issued a safety communication announcing that they would be evaluating the safety of incretin mimetic drugs, including Byetta and Januvia, especially in connection to pancreatic cancer.
Other side effects of Januvia and Byetta
Other side effects for Januvia and Byetta include:
Renal impairment
Nausea
Hypoglycemia
Vomiting
Diarrhea
Stomach discomfort
Headache
Dizziness
Nervousness, jittery feelings
An allergic reaction from Byetta may include the following symptoms in addition to some of those listed above:
Swelling
Weight gain
Shortness of breath
Changes in urination
Drowsiness
Mood changes
Byetta and Januvia lawsuits allege pancreatic cancer
As of August 2013, a multidistrict litigation (MDL) concerning the side effects of Januvia, Janumet, Byetta (and another similar drug, Victoza) has been consolidated in the federal court of the Southern District of California, San Diego. Hundreds of lawsuits have been filed and centralized as part of this litigation, all having to do with pancreatic cancer patients or their families. The lawsuits have been consolidated as part of the MDL because they will involve similar drugs, side effects, and evidence, but (unlike a class action suit), each case will have its own outcome.