Plaintiff Claims Talc Powder Caused Her Ovarian Cancer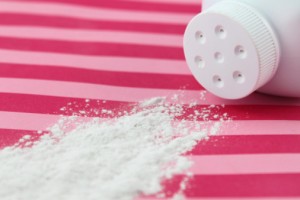 Daily use of talcum powder for over 30 years has resulted in a case of ovarian cancer, alleges a new lawsuit filed against Johnson & Johnson and Imerys Talc America. The plaintiff, Rebecca Lichtenfels, filed her product liability lawsuit in the U.S. District Court for the District of Columbia on January 31, 2019. It's expected that her lawsuit will be joined to the multidistrict litigation (MDL), which is pending in the District of New Jersey and is being overseen by U.S. District Judge Freda Wolfson.
Defendants' talc powder used for feminine hygiene purposes
According to her lawsuit, Lichtenfels states that she began using the defendants' talc powder for hygiene purposes in January 1984. She continued to dust her body with the powder on a regular basis until November 2012. The plaintiff ceased her dusting practices not long after she was diagnosed with life-threatening ovarian cancer.
The complaint alleges that the defendants had claimed that it was safe to dust the body with talc powder. It states, "At all relevant times, the Johnson & Johnson Defendants, through their labeling and marketing of the products, intentionally misrepresented material facts in order to mislead consumers that the products were safe for use in the female perineal area and induce consumers to purchase its products." The lawsuit goes on to state that the defendants' advertisements, labeling, and public representations of their products gave a consistent impression that talc powder was safe for feminine hygiene uses.
Report: J&J knew talc powder contained asbestos
Despite past denials about the possible presence of asbestos in their talc powder, Johnson & Johnson has recently been under fire about the release of internal documents regarding talc powder contamination. Recently, the company has been legally compelled to release thousands of internal reports, memos, and other confidential documents, some of which demonstrate that raw talc powder and the finished products sometimes tested positive for asbestos. The company failed to disclose the results of these tests to the public. Regulators were not made aware, either.
Asbestos is a carcinogenic substance known to cause lung cancer and ovarian cancer. Because asbestos and talc both occur naturally in the earth, it's possible for asbestos to contaminate the talc during mining operations.
Talc powder litigation updates
Lichtenfels' lawsuit is one of nearly 12,000 talcum powder cancer lawsuits currently pending against Johnson & Johnson. The multidistrict litigation consolidates lawsuits for the purpose of streamlining the litigation process, preventing duplicative discovery, and conserving the resources of all parties involved. Consolidating similar lawsuits in this manner also prevents contradictory rulings across multiple jurisdictions. Following the discovery process, it's expected that a handful of bellwether trials will be held to assess jury reactions to evidence and testimony. The outcomes of these trials are not binding on any other lawsuit.
Generally, settlement talks may occur at this point. The involved parties might agree to a settlement to resolve some or all of the remaining lawsuits in the MDL. If no agreement can be reached, the unresolved lawsuits will be remanded back to their home districts for trial.
Additional resources:
Reuters, Johnson & Johnson Knew for Decades that Asbestos Lurked in its Baby Powder, https://www.reuters.com/investigates/special-report/johnsonandjohnson-cancer/
CNN, India drug regulators testing Johnson & Johnson baby powder for asbestos, https://www.cnn.com/2018/12/26/health/india-testing-johnson–johnson-baby-powder-for-asbestos-intl/index.html