Study: Testosterone Therapy Raises the Risk of Blood Clots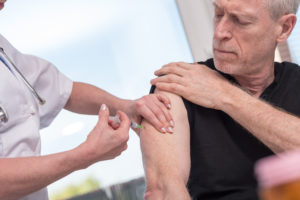 There is new, compelling evidence to suggest that all men who use testosterone therapy products have an increased risk of life-threatening blood clots. This remains true regardless of whether the patients have been diagnosed with hypogonadism or not. Testosterone therapy products, which include Axiron, Androgel, and Testim, have been under fire in recent years because of their association with the increased risk of deadly complications, including heart attacks and stroke.
Scientific study links testosterone therapy products with blood clots
Researchers from the University of Minnesota School of Public Health evaluated health records data from January 1, 2011, to December 31, 2017. The data came from the IBM MarketScan Commercial Claims and Encounter Database and the Medicare Supplemental Database. Nearly 40,000 men were included in the study, including men who were diagnosed with hypogonadism and those who had not been diagnosed with it. The study group was limited to men who did not have cancer at the beginning of the study. The men also had 12 months of continuous enrollment prior to experiencing a blood clot event.
The results of the study revealed that blood clots affected both men who had hypogonadism and those who did not. Men who were diagnosed with low testosterone levels suffered double the risk of blood clots compared to men who did not use testosterone products. Men without a diagnosis of hypogonadism suffered 2.3 times the risk of blood clots.
The researchers discovered some differences due to age. Younger men appear to be at a greater risk. For men younger than 65 years of age, the risk of blood clots was three times higher among those who were not diagnosed with low testosterone. Men with low testosterone had 1.5 times the risk.
Testosterone therapy product lawsuits
In the early 2000s, the pharmaceutical industry began aggressively marketing low testosterone products to men who were feeling fatigued, sluggish, and had low energy, mood swings, and low libido. As a result of this aggressive marketing campaign, from 2001 through 2013, prescriptions for testosterone therapy products increased by over 300% as TV advertisements urged men to talk to their doctors about low T. During the past few years, prescriptions for low T products have dropped. This new trend comes on the heels of an FDA warning that associated these medications with blood clots, heart attacks, and stroke.
Thousands of lawsuits were filed against the makers of Androgel, Testim, and other low T products. In June 2014, the U.S. Judicial Panel on Multidistrict Litigation (JPML) centralized all federal low T lawsuits into a multidistrict litigation (MDL). U.S. District Judge Matthew Kennelly was appointed to oversee the MDL. The plaintiffs claimed that the manufacturers failed to provide them with adequate warnings of the serious, life-threatening health risks. The defendants were further accused of inappropriately promoting the drugs for off-label use for men who had not been diagnosed with low T, despite the fact that these medications were not proven effective for men not diagnosed with hypogonadism.
Some of these testosterone therapy lawsuits are still pending. However, in 2017, one of the manufacturers, AbbVie, was ordered to pay $150 million in punitive damages. Then, in September of 2018, AbbVie settled more than 4,000 lawsuits. The settlement amount was not disclosed.
Additional resources: