About Benicar
The beginning of 2014 marked the influx of Benicar, a popular drug used to treat high blood pressure. However, usage has been associated with certain dangerous gastrointestinal side effects. Because symptoms of side effects may be delayed, by months or even years, the number of Benicar lawsuits against the manufacturer is expected to grow as time goes on.
What is Benicar?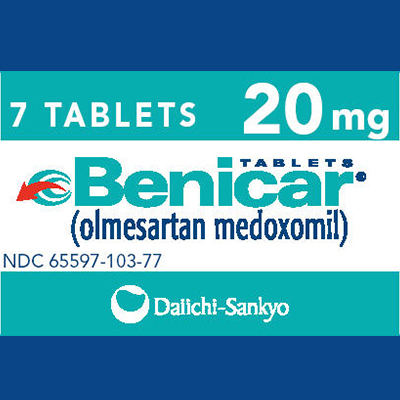 Benicar is a trade name for the drug olmesartan and is used to treat high blood pressure. It is not intended for use by patients who are pregnant or have a history of problems related to the liver, gallbladder, or bile ducts. Olmesartan was created in 1995 and approved by the FDA in 2002. It is marketed by Daiichi Sankyo, the New Jersey-based subsidiary of a Japanese company.
Olmesartan is an angiotensin II receptor blocker, or ARB; it prevents an increase in blood pressure by blocking the action of the substance angiotensin II. It is one of several ARBs on the market but it is the only such drug associated with the reported GI symptoms.
Nearly 70 million Americans suffer from high blood pressure an in 2012, more than 10 million prescriptions were dispensed for olmesartan.
Upon Benicar's initial release, the manufacturer reported that most side effects in patients taking the drug were similar to those experienced by people taking a placebo. It did report that trial patients taking Benicar were three times more likely than placebo recipients to report dizziness.
Benicar use associated with severe gastrointestinal side effects
A number of  patients have experienced significant gastrointestinal side-effects of Benicar. The reported problems include bloating, chronic diarrhea, vomiting, unintended and extreme weight loss, anemia, inflammation of the intestinal track, and enteropathy, which is a disease of the intestine.
In some cases, the enteropathy symptoms associated with olmesartan use mimic celiac disease, which has been mysteriously on the rise in recent years. Celiac disease is believed to be an autoimmune intolerance to the protein gluten, found in wheat, and the symptoms typically subside when wheat products are removed from the patient's diet. In Benicar-related sprue-like enteropathy, however, the GI problems continue even when the patient switches to a gluten-free diet and only improve when he stops taking olmesartan.
Mayo Clinic study relates severe celiac-mimicking symptoms to Benicar
Between 2008 and 2011, Dr. James Murray at the Mayo clinic treated patients from across the country with severe and life-threating celiac-like symptoms. The symptoms in many cases were ultimately attributed to Benicar when Dr. Murray caught on that several of his enteropathy patients were taking the drug.
Upon further study, Dr. Murray discovered that 22 of the patients were taking Benicar and 14 of those patients required hospitalization due to the severity of their symptoms. None of the patients responded to a gluten-free diet. They lost an average of 40 pounds, with one patient losing a shocking 125 pounds.
FDA approves Benicar, then issues warnings
In July 2013, the U.S. Food and Drug Administration (FDA) warned that the drug can cause what is known as sprue-like enteropathy and required the manufactured change its label to reflect this. The symptoms of sprue-like enteropathy include chronic diarrhea and weight loss and they may not begin until months or years after a patient starts taking Benicar. In some cases the symptoms are sever enough to require hospitalization.
Benicar patients sue over side effects
In February 2014, three plaintiffs filed lawsuits against the makers of Benicar and Forest Laboratories, Inc., which promoted Benicar. The complaints alleged that the drug was defectively designed and that the manufacturer failed to warn of its dangers.
One of the complaints alleged that the plaintiff was hospitalized four times, spending more than 100 days in the hospital, due to the complications from the drug. He attributed a back fracture and cataracts to the steroids he was given to counter the effects of the blood pressure medication. He also alleged that the drug caused permanent intestinal damage requiring him to use a feeding tube.
All three of the cases filed in February were filed in the New Jersey state courts and removed to the U.S. District Court for the District of New Jersey.
Legal help for Benicar victims
Because the severe gastrointestinal effects of Benicar can be delayed by weeks or months after initially taking the drug, a hypertension patient who has no symptoms now may develop them further down the line. If you or a loved one have taken Benicar or olmesartan under any other name, it is best to be on guard when there are any symptoms of gastrointestinal upset. Any diarrhea, vomiting, bloating, or other gastrointestinal symptoms should be be discussed with a doctor as soon as possible; patients with enteropathy symptoms have the best outcome when treatment is not delayed.
If you or a loved one has suffered a serious intestinal inflammation or gastrointestinal problem while taking Benicar, you may be entitled to compensation. A monetary award may be possible to reimburse you for medical bills, pain and suffering, lost wages, loss of companionship, and other damages. Contact an attorney to discuss the possibility of pursuing a product liability lawsuit against the drug manufacturer.