Byetta Lawsuit Alleges Diabetes Drug Caused Thyroid Cancer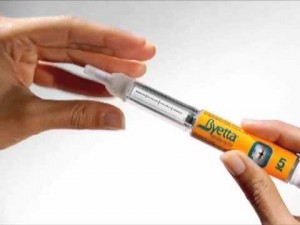 A plaintiff and his wife have filed a Byetta cancer lawsuit in California, claiming long time use of the drug to treat type II diabetes led to a thyroid cancer diagnosis. This complaint joins a growing number of Byetta & Januvia lawsuits in coordinated proceedings in the U.S. District Court for the Southern District of California, all filed by plaintiffs that claim use of these or similar diabetes drugs led to cancer diagnoses.
Barry and Lola Kurtz filed their complaint on January 5, 2015. According to the plaintiffs, Barry Kurtz was prescribed Byetta by his physician to treat type II diabetes in April 2008. Kurtz continued to take the drug until March 2013 as a long-term treatment for his chronic condition. However, in January 2013, Kurtz was diagnosed with thyroid cancer. He attributes his cancer diagnosis directly to the extended consumption of Byetta.
Byetta study cites risk
Byetta was approved by the FDA in 2005 to treat type II diabetes. It belongs to a class of drugs known as incretin mimetics, which work by lowering blood glucose levels.
The plaintiffs in this lawsuit cite a 2011 study published in the journal Gastroenterology, which found that use of drugs in this category can increase a person's risk for pancreatitis and pancreatic cancer. Byetta, in particular, was also found to increase the risk of thyroid cancer, possibly by allowing tumors previously held in check by the immune system to grow.
Thyroid tumors have also been reported in rodents used in testing a drug in the same category as Byetta, Victoza. Approved in 2010, this drug included a black box warning alerting users to a possible connection between the drug and thyroid tumors. The FDA also required the manufacturer of Victoza to conduct additional studies on the link between use of the drug and risk of thyroid tumors.
No such warning is included on the Byetta label, despite similarities in the formulation of both drugs.
Warning label "inadequate"
The plaintiffs in this case assert that warnings on the Byetta label are inadequate for alerting medical providers and patients to the risks associated with this drug. Kurtz claims that if his physician had known of the risks, he would not have prescribed the drug to his patient. If Kurtz had been aware of the risks, he would have also chosen not to take the drug.
As a result of his long-term Byetta use, Kurtz states he is now "permanently and severely" injured. He has "suffered severe mental and physical pain and suffering, along with economic loss." His spouse, Lola Kurtz, has also been deprived of the "comfort and enjoyment of the services and society" of Kurtz as a result of his injuries.
This Byetta cancer lawsuit was filed directly into the federal MDL involving type II diabetes drugs and cancer. Although pancreatic cancer cases make up the bulk of this coordination, allegations of thyroid cancer will also fit within the common statements of fact required for the MDL.
Like other plaintiffs in the coordination, the Kurtz's are seeking damages from manufacturers Amylin Pharmaceuticals and Eli Lilly for pain and suffering, medical expenses, economic damages and punitive damages.