Talcum Powder Cancer Lawsuit Remanded to Circuit Court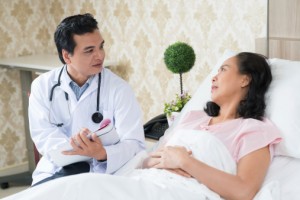 A talcum powder lawsuit filed by 65 women has been remanded, returning it to the Circuit Court of St. Louis, Missouri. Judge Jean C. Hamilton issued the order on September 24, indicating that the defendants in the case, Johnson & Johnson, had wrongly removed the case to federal court.
The lawsuit was originally filed in circuit court on June 23. The 65 plaintiffs argue that they developed ovarian cancer after using Johnson & Johnson's talcum powder products for genital hygiene, and that the company failed to warn consumers about this risk despite being aware of it for decades.
The defendants removed the case to the United States District Court, Eastern District of Missouri on August 8. The plaintiff's subsequent request for their case to be remanded was honored even as the defendants submitted their own response to the motion which argued that the removal was warranted under the "fraudulent misjoinder doctrine."
Judge Hamilton rejected the defense's arguments, noting that while some differences exist among the circumstances of some plaintiffs' claims, namely the duration of time each used the defense's product, enough similarities are present to preclude the assertion that complete diversity exists.
Talcum powder cancer lawsuits cite failure to warn of risks
Like other talcum powder cancer lawsuits filed so far, the St. Louis complaint claims that Johnson & Johnson knew (or should have known) about the high risk of contracting ovarian cancer that women face if they use talcum (or "baby") powder for perineal hygiene by, for instance, sprinkling it on their underwear or feminine hygiene products. However, the company failed to warn potential consumers about this risk, failing to mention it on the product's labels and representing it in their advertising as safe.
The plaintiffs cited several scientific studies substantiating a link between genital talcum powder use and ovarian cancer, with the first study dating back to 1971. A more recent study also demonstrates the link quite comprehensively: the peer-reviewed journal Cancer Prevention Research published an article in 2013 detailing a study in which 8,525 women who used talcum powder in this manner were compared to a control group of 9,859 women. The study found an increased level of ovarian cancer in the first group: a 20-30% higher risk.
More talcum powder cancer lawsuits filed after initial victory
Plaintiffs in baby powder lawsuits across the country can point to an initial victory in the person of Deanne Berg. A South Dakota jury in her 2013 case found sufficient evidence that the plaintiff's ovarian cancer was linked to her use of Johnson & Johnson's Shower to Shower body powder every day for 30 years. Doctors testified that talc fragments were found in the cancerous tumor removed from her ovaries.
During that trial, an expert witness testified that as many as 10,000 cases of ovarian cancer a year may be the result of genital talcum powder use. So far, dozens of women in such circumstances have come forward to consult with talcum powder lawyers and file suits asserting such a connection and seeking compensation for related damages.