Talcum Powder Lawsuits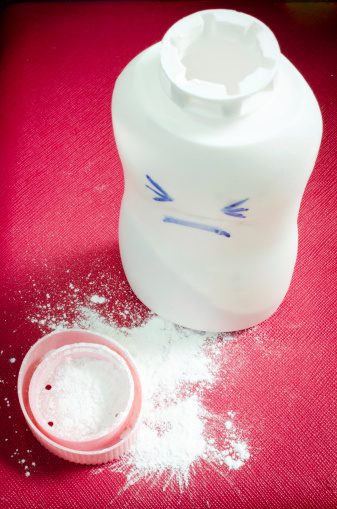 A slew of recent baby powder lawsuits contend that talc manufacturers failed to adequately warn women of known risks associated with their products. By some estimates, talcum powder has been tied to a 30 percent increased risk of ovarian cancer.
Each year, nearly 16,000 U.S. women die from ovarian cancer, which is the fourth most fatal cancer among women. The Huffington Post reports that an estimated one in five women regularly applies talc to her genitals to absorb moisture – either through direct application, the use of tampons and sanitary pads, or diaphragms that have been dusted with the material.
J&J found negligent in first talc lawsuit
In 2013, a federal jury in Sioux Falls, South Dakota determined that a woman's 30-year use of Johnson & Johnson talcum powder contributed to her ovarian cancer. The plaintiff, 56-year-old Deane Berg, did not receive any compensation for her injuries, but after two days of deliberation, the jury concluded that J&J was, in fact, negligent in failing to warn consumers of known risks tied to their talcum powder products.
The talcum powder lawsuit verdict is an encouraging sign for women who feel they have been harmed by their regular use of talc-containing hygiene products. "This is an absolutely great day for women all over the country," said the plaintiff's lawyer. "The jury wanted this connection out there in the public. They can't hide this anymore."
Harvard University doctor Daniel Cramer testified that "up to 10 percent of all ovarian cancer cases in the U.S. are related to the use of talcum powder," and as many as 10,000 more ovarian cancer lawsuits could be filed by the end of the year.
2016: plaintiffs win $72 million talc cancer verdict
In February 2016, J&J was found liable for fraud, conspiracy and negligence and ordered to pay $72 million in damages in a talc cancer lawsuit tried in Missouri circuit court. Jurors handed down their landmark verdict after less than four hours of deliberation. The suit was filed on behalf of an Alabama woman, Jackie Fox, who died of ovarian cancer at the age of 62.
Fox had used J&J's Shower to Shower and Baby Powder for feminine hygiene purposes for more than three decades.  She died of the disease in 2015, just two years after being diagnosed. Jurors told reporters they were swayed by an internal J&J memo that showed the company was trying to conceal evidence that linked genital talc use with cancer. "They could have at least put a warning label on the box but they didn't. They did nothing," one juror told the Post-Dispatch.
The verdict included punitive damages of $62 million and $10 million for actual damages. The case was the first baby powder lawsuit that resulted in a monetary damage award, and may set the tone for remaining litigation. J&J plans to appeal the verdict.
Resarch linking talcum powder to ovarian cancer
Researchers suspect that fine talc particles can travel through the female reproductive system and cause chronic inflammation of the ovaries, which leads to the growth of cancer cells.
It's alarming when one looks back at all the evidence pointing to a link between talcum powder and ovarian cancer:
A 1971 study titled "Talc and the carcinoma of the ovary and cervix" found talc inside 75 percent of ovarian tumors.
In an August 1982 article, the New York Times suggested that Johnson & Johnson were aware of a study that found women were three times as likely to develop ovarian cancer if they used feminine hygiene products containing talc.
A February 2013 study published in the medical journal Cancer Prevention Research analyzed 8,525 cases of women who used talc body powder and 9,859 controls who did not, and reported that talc users have a 30 percent higher risk of ovarian cancer.
The Ovarian Cancer Research Fund reported that: "The use of talc-based powder has been associated with an increased risk of ovarian cancer in some, but not all, studies…. Examining data from thousands of women, the researchers found that genital powder was associated with a modest increased risk of epithelial ovarian cancer. There was no increase in risk among women who used the powder only on other parts of the body."
The American Cancer Society points to a meta-analysis of 16 different studies, which found a 30 percent increased risk of ovarian cancer among talc users. However, the average woman's lifetime risk of ovarian cancer is only about 1.4 percent, so even with the 30 percent increase, the risk is still just 1.8 percent.
"Still," they write, "talc is widely used in many products, so it is important to determine if the increased risk is real."
The FDA is often considered to be the authority on consumer safety and protection. So far they have been hesitant to issue advisories or recalls that may trigger product liability lawsuits. On one hand, they explain, "Talc is an ingredient used in many cosmetics, from baby powder to blush. From time to time, FDA has received questions about its safety and whether talc contains harmful contaminants, such as asbestos."
Yet, they conclude that the previous studies conducted "have not conclusively demonstrated such a link" and say they will merely "continue to monitor" for new information.
Proving liability in a baby powder lawsuit
In order to win compensation in a talcum powder ovarian cancer lawsuit, the injured party must prove that:
There was an injury that caused significant suffering or damage.
The product involved in your case was defective or lacked proper warnings.
The product's defect was the direct cause of injury, despite using the product as directed.
The product manufacturer owed the plaintiff a certain standard of safety, by law.
People who have been injured by regular use of talcum powder (or living relatives of the deceased) may sue manufacturers on the grounds of:
Strict liability – Contends that the product was "defective" and caused injury, which qualify for damages
Negligence – The defendant's conduct led to plaintiff injuries through breach of duty
Breach of warranty – Manufacturers sold a product that failed to meet the plaintiff's specifications
The first baby powder lawsuit to go through the court system underscores the importance of choosing an experienced product liability lawyer who understands not just how to construct a winning legal argument, but also how to secure maximum compensation for plaintiffs.
Deane Berg sued the talc manufacturer on the grounds of strict liability and negligent failure to warn. She lost the strict liability case, but won the negligent failure to warn case. However, Berg's legal counsel was unable to establish that a finding of liability necessitates damages under South Dakota law, so no compensation was awarded.
Current status of talcum powder lawsuits
The baby powder lawsuits are just starting to come together, with filings across several different states. As more cases are filed, they may end up forming the basis of a new MDL (multi-district litigation), ushered through pre-trial proceedings by a single judge. From there, a few early bellwether trials may be scheduled to expose possible weaknesses in the legal arguments and set a precedent for the remaining talc cancer lawsuits.
Sometimes large settlement offers are made after an MDL is formed. Other times, the cases are remanded back down to the lower state courts to proceed as individual trials.
Women with ovarian cancer who feel that they were victims of manufacturer negligence are encouraged to seek representation from an experienced talcum powder lawyer. It costs a plaintiff virtually nothing to file a talcum powder lawsuit. The payment of legal fees is typically contingent on winning a settlement or jury award.