Testosterone Therapy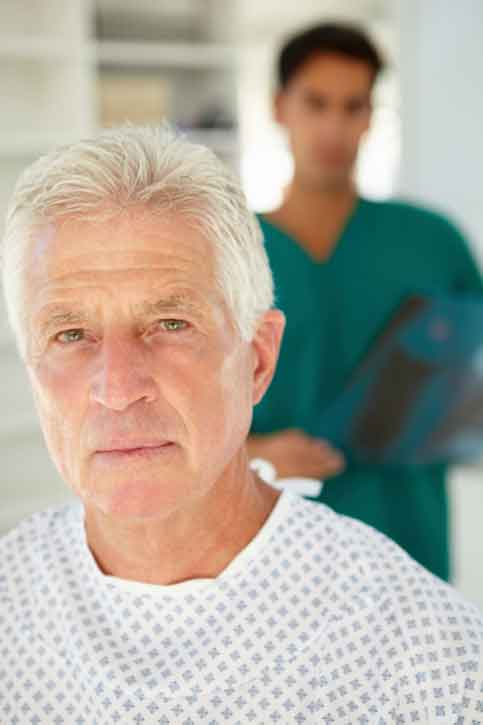 Testosterone therapy is a medical treatment for men whose bodies produce insufficient amounts of the hormone testosterone.  Though approved for use in cases where men have a specific medical condition resulting in low testosterone levels, various kinds of artificial testosterone enhancements have been marketed to men who experience naturally lower levels of the hormone as they age (popular referred to in advertising as "low T").
The efficacy and the safety of this non-approved treatment have, however, been called into question by numerous recent studies, several of which have cited a higher risk of stroke and heart attack in connection to men undergoing testosterone therapy.
The FDA announcement of a testosterone therapy safety review has prompted many men who have suffered heart attacks in connection to their "low T supplement" treatment to file lawsuits against the companies that market and manufacture testosterone treatments.
How does testosterone therapy work?
Testosterone is a hormone produced in the testicles and responsible in part for the following functions in the male body:
Muscle strength and mass
Fat distribution
Bone density
Red blood cell production
Sex drive
Sperm production
If there is a problem (through an injury or illness of some kind) with the testes or with the pituitary gland that regulates them, the body may produce little or no testosterone.  This condition is called hypogonadism and is treatable through testosterone therapy:  testosterone supplements prescribed by a doctor and applied through injections, pellets, patches or (primarily) gels.  This use of testosterone therapy has been approved by the FDA and should be prescribed by a doctor after hypogonadism has been diagnosed through a blood test and thorough examination.  Hypogonadism is a specific condition that affects only a small proportion of men.
What is "low T"?
As the male body ages, it naturally produces lower levels of testosterone.  Whereas testosterone levels peak during adolescence and young adulthood, a decline begins at about age 30.  Men may experience no symptoms whatsoever in conjunction with this gradual diminution of the hormone and there is no need for this natural process to be "treated."
Some men do experience the following symptoms in conjunction with aging:
Reduced libido (sex drive)
Fewer erections
Infertility
Insomnia
Increased body fat
Reduced muscle mass and strength
Decreased bone density
Less energy
Emotional changes (sadness, depression, lack of confidence)
Trouble with memory or concentration
These symptoms are a normal part of the aging process and many men experience at least some of them after their middle age years.
Recently, several pharmaceutical companies that produce testosterone therapies approved to treat hypogonadism have also marketed their products to men as a means to return youthful zip, vigor and libido.  Advertisers refer to this decline in testosterone through aging as "low T" and suggest that it can and should be treated through testosterone therapy.
"Low T" treatment
Popular brands now on the market to treat hypogonadism or "low T" include the following:
Axiron
AndroDerm
AndroGel
Bio-T Gel
Delatestryl
Dep-Testosterone
Foresta
Striant
Tesopel
Testim
The following people should not use or be exposed to testosterone therapy:
Those with breast cancer
Those who have or might have prostate cancer
Children
Women, especially those who are pregnant or breast-feeding
Side effects of testosterone therapy
Doctors who consider prescribing supplements to their patients need to weigh the possible testosterone side effects that the treatment has against potential benefits.
The website for AndroGel lists the following potential side effects:
Aggravated sleep apnea
Acne or other skin conditions
Enlarged prostate or exacerbation of pre-existing prostate cancer
Breast enlargement or pain
Swelling of ankles, feet, or body
Low sperm count
Blood clots in the legs
However, recent studies have suggested more serious side effects:
Heart attack
Stroke
Other heart problems
Death
Medical studies: testosterone therapy heart risks
The risk of heart attack and stroke are the most serious of those associated with testosterone therapy.
Testosterone drug risks have been the subject of recent medical studies:
In a study published on January 29, 2014 in PLoS One, researchers found a link between testosterone therapy and heart attack both in men over 65 and men younger than 65 with a known risk of heart problems.  The study tracked 56,000 men between 2008 and 2010 and found that the risk for both groups was approximately doubled.
In November 2013, a Veterans Affairs study published in the Journal of the American Medical Association found a 30 percent increase of heart attacks, strokes, and death in the 1,223 men who took the drug compared to 7,486 who did not.
A smaller, randomized study published in 2010, also detected a link between testosterone therapy and heart attacks, stokes, and other heart problems, but had to end prematurely because the older men (over 65) exposed to high doses of testosterone gel experienced so many of these heart problems.
Testosterone therapy heart attack risks and the FDA
The PLoS One study prompted many researchers to call for the FDA to mandate a heart attack warning label for testosterone therapies.  According to Sidney Wolfe (currently senior advisor at Public Citizen, a public health advocacy group), "Given that there have been several studies now, I don't see how the Food and Drug Administration can justify having no warnings of heart attacks at all."
Other researchers are skeptical. Boston urologist Abraham Morgentaler (author of a book about testosterone) believes that the studies do not take into account the heart problems that men with low testosterone may already have. Dr. Michael Lauer of the National Heart, Lung and Blood Institute admits that the recent study is of less value because it was not a randomized trial, but that, taken with the other studies, it might still suggest a problem.
In light of recent studies, the FDA has announced that it will review the data linking testosterone therapy to heart problems.  According to a statement from late January 2014, the "FDA is investigating the risk of stroke, heart attack and death in men taking FDA-approved testosterone products."  Though the agency has not yet concluded the existence of such risks, it advises doctors that they "should consider whether the benefits of FDA-approved testosterone treatment is likely to exceed the potential risks of treatment."
Litigation over testosterone therapy injuries
The first five AndroGel heart risk lawsuits were filed in February of 2014, following the FDA call for further study of testosterone therapy risks. Four of them, filed on February 4, were from men who allegedly experienced heart attacks, heart failure, and stroke in connection with AndroGel therapy. A fifth, filed on February 10, cited pulmonary embolism, and other heart-related complications.
Over thirty complaints have since been filed, including many from patients who suffered heart-related incidents while taking AndroGel, as well as some patients who had been prescribed the testosterone therapy Testin.  Plaintiffs contend that the companies responsible for manufacturing and marketing the testosterone therapy treatments hid or downplayed potential heart risks in their advertising.
Plaintiffs are seeking to consolidate their cases as part of a multidistrict litigation (MDL) in the U.S. District Court, Northern District of Illinois, where the original five cases were filed.  An MDL involves the centralization of several similar complaints under one judge for the purposes of pre-trial discovery.  However, unlike a class action lawsuit, the each case will be heard separately and will conclude with its own judgment or settlement.
Patients who have suffered heart attack, stroke, life-threatening blood clots or other cardiovascular injuries while receiving testosterone therapy should discuss a potential case with a product liability attorney.