NaturaLyte & GranuFlo Side Effects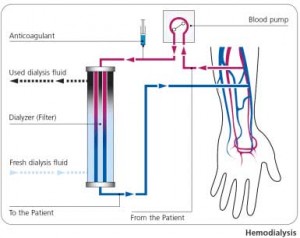 Many dialysis patients throughout the United States have suffered injuries from NaturaLyte and GranuFlo side effects, which may include heart attack, heart disorders, and death. The drugs are administered during hemodialysis to control acid build-up – a common physical reaction during treatment. However, the new products differ from previous control methods and potentially cause dangerously elevated levels of bicarbonate in the blood of patients, which may trigger severe side effects.
NaturaLyte & GranuFlo side effects
Fresenius is the manufacturer of NaturaLyte and GranuFlo. Naturalyte is in a liquid state and contains acetic acid, while GranuFlo is in a powder state and contains diacetate. Both products are used during hemodialysis – a process to filter and clean patient's blood. People who suffer from acute renal failure (kidney injury or disease) may need to undergo dialysis to restore their blood to a normal state by removing wastes, balancing electrolytes, and eliminating excess fluid from the body.
Products such as GranuFlo and NaturaLyte are utilized during hemodialysis to maintain proper levels of acidity and alkalinity.
However, GranuFlo and NaturaLyte have been linked to a condition known as alkalosis – too much alkalinity.
Alkalosis can cause an array of dangerous side effects including:
Heart attacks – which are attributed to 59 percent of dialysis-related deaths.
Cardiovascular complications – such as irregular heart beats (cardiac dysrhythmias) as well as inflammatory and hypertensive heart disease.
Stroke – which can be caused by an interruption of blood flow or lack of oxygen to the brain.
Death – which is typically the result of one of the aforementioned side effects.
FDA recall for label change
The FDA announced a Class 1 voluntary recall for GranuFlo and NaturaLyte on March 29, 2012.
According to the FDA, "the manufacturer is cautioning clinicians to be aware of the concentration of acetate or sodium diacetate (acetic acid plus acetate) contained in Fresenius' Naturalyte Liquid and Granuflo Dry Acid Concentrate. Inappropriate prescription of these products can lead to a high serum bicarbonate level in patients undergoing hemodialysis. This may contribute to metabolic alkalosis, which is a significant risk factor associated with low blood pressure, hypokalemia, hypoxemia, hypercapnia and cardiac arrhythmia, which, if not appropriately treated, may culminate in cardiopulmonary arrest. This product may cause serious adverse health consequences, including death."
However, the recall does not require the product to actually be removed from the market. The manufacturer clarified in June 2012, "Fresenius Medical Care North America (FMCNA) announced today that the Food and Drug Administration (FDA) has classified FMCNA's voluntary action to change the labeling on its dialysate products as a Class 1 recall. In conjunction with this classification, and to further reinforce the importance of correct dialysate dosing, FMCNA will continue its process to place updated labels on its NaturaLyte and GranuFlo Acid Concentrate products, and to update its hemodialysis machine operator's manuals. To date, FMCNA has notified more than 90 percent of its customers of these two labeling updates, and will continue with that effort until it is complete."
Fresenius further stated, "The FDA's action does not involve the removal of any FMCNA products from the marketplace."
Leaked internal memo leads to recall
In November 2011, an internal memo from Fresenius' medical team was sent to medical personnel in the company's dialysis clinics. The memo warned "that failure to properly use one of the company's products appeared to be contributing to a sharp increase in the risk of patients dying suddenly from cardiac arrest," reported the New York Times.
According to the New York Times, the memo further stated, "In light of these troubling findings. This issue needs to be addressed urgently."
The memo also said "that 941 patients had suffered cardiac arrest inside Fresenius clinics in 2010. By comparing these patients with others, the company's medical staff concluded that patients with high levels of bicarbonate in their blood had about six times the risk of cardiac arrest as those with lower levels," reported the Times.
However, the company sat on the information until the memo was leaked to the FDA in late March, which led to the recall shortly thereafter.
An estimated 400,000 people in the U.S. need dialysis. Of those, about 132,000 patients receive treatment in Fresenius' facilities. Some predictions speculate that 125,000 patients receive dialysis with GranuFlo in clinics not affiliated with Fresenius. All total, it is possible that over 50 percent of people undergoing hemodialysis in the United States are receiving GranuFlo or NaturaLyte.
Currently, more than 600 Granuflo & Naturalyte lawsuits have been filed against Fresenius.
Fresenius dialysis lawsuit allegations
Patients who have been injured by GranuFlo or NaturaLyte side effects typically file lawsuits that allege the company failed to provide adequate warnings on the labels about known health risks. Demands associated with their injuries include monetary damages for medical expenses, pain and suffering, lost income, and wrongful death.
With the number of patients who received treatment before the FDA recall and label change coupled with the fact that the product is still being used today, the possibility of many more GranuFlo and NaturaLyte lawsuits seems likely.