J&J Ordered To Pay $55 Million in Talc Cancer Verdict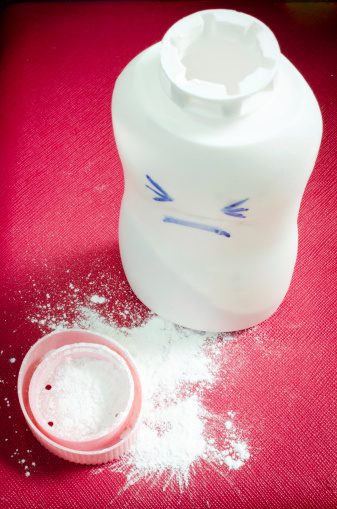 A judge in St. Louis, Missouri ordered Johnson & Johnson to pay plaintiff Gloria Ristesund $55 million in damages for allegedly "failing to warn consumers of known risks" associated with their talcum powder – the second verdict of its kind, to date. In February, the same court awarded $72 million to the family of a deceased woman who had used talc powder for feminine hygiene until ovarian cancer took her life.
In the most recent talcum powder verdict, Ristesund said her ovarian cancer diagnosis led to a hysterectomy and related surgeries. Though her cancer is now in remission, she believes the disease had been caused by decades of using Johnson & Johnson's Shower Powder for feminine hygiene. According to The Guardian, the company faces roughly 1,200 similar baby powder cancer lawsuits.
Talcum powder linked to ovarian cancer
The plaintiff's counsel claimed, "They knew that 1,500 women were dying each year from ovarian cancer caused or indirectly contributed to by talc and continued to sell, made a conscious decision not to warn."
One of the damning pieces of evidence that emerged in court was a 1997 internal memo from a company medical consultant that said anybody who denies the risk of developing ovarian cancer from hygienic talc use is "denying the obvious in the face of all evidence to the contrary" – much like those who denied the link between smoking and cancer, AP reports.
Furthermore, a 30 percent increased risk of ovarian cancer was linked to regular use of perineal cosmetic talc in a meta-analysis of 11,933 subjects from 16 observational studies published in the journal Anticancer Research in 2003.
Similarly, researchers from the Brigham and Women's Hospital in Boston looked at more than 2,000 women with ovarian cancer and 2,000 women without and found that applying talcum powder to genitals, underwear and sanitary napkins increased the risk of developing ovarian cancer by a third, although the risk was "modifiable" and depended on several other factors, including weight, menopausal hormone use, and smoking habits.
Is talc dangerous for women?
Not everyone agrees. J&J spokeswoman Carol Goodrich says the jury's decision goes against "30 years of research supporting the safety of cosmetic talc" and that the company would appeal the verdict.
"It's hard to directly link ovarian cancer to talc," Eva Chalas, chief of Gynecologic Oncology and Director of Clinical Cancer Services at Winthrop-University Hospital, told USA Today in a phone interview. "The information on talc powder came out many years ago when they saw talc incorporated in the tissue of women with ovarian cancer," she added.
Most researchers agree that more rigorous research is still needed, although many doctors are warning parents not to use baby powder as a precautionary measure.
Health organizations have been slow to respond. The American Cancer Society website explains: "Studies of personal use of talcum powder have had mixed results, although there is some suggestion of a possible increase in ovarian cancer risk." The U.S. National Toxicology Program has not fully reviewed talc as a possible carcinogen, but the WHO's International Agency for Research on Cancer says hygienic talc is "possibly carcinogenic to humans."
Companies have a duty to warn of risks
Ovarian cancer is the eighth most common cancer, with 20,000 new diagnoses and over 14,000 deaths each year, according to the CDC. "Ovarian cancer causes more deaths than any other cancer of the female reproductive system, but it accounts for only about 3% of all cancers in women," the organization reports.
When caught early, the cancer is very treatable, but the women in these lawsuits say they would never have used J&J's talc products if they had known what they know now. It is legal to sell products with cancer risks, as long as they are disclosed. Plaintiffs in these lawsuits are calling on J&J to either pull the product from the market or at least update their product labels to make the cancer risk association clearer.