J&J Hit with $72 Million Judgement in Talc Cancer Lawsuit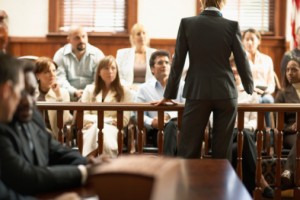 A Missouri jury has awarded $72 million to the family of a woman after determining her ovarian cancer was directly linked to decades of use of talcum powder products manufactured by Johnson & Johnson.
The verdict was the first to award damages to a plaintiff after determining the pharmaceutical giant was liable for fraud, negligence and conspiracy.
The family of Jacqueline Fox was awarded $10 million in actual damages and $62 million in punitive damages. According to the lawsuit, Fox had used Johnson & Johnson's Baby Powder and Shower to Shower products for more than 35 years. Three years ago, Fox was diagnosed with ovarian cancer.
She died from that disease in October 2015 at the age of 62.
Plaintiff joined dozens of other in state court
After her diagnosis, Fox filed her lawsuit in Missouri State Court, along with other women who alleged that use of talc around the genital area led to ovarian cancer diagnoses. Currently, around 1,000 cases have been filed in that court against Johnson & Johnson, while another 200 are pending in New Jersey.
The plaintiffs claim that Johnson & Johnson had knowledge that their products increased the risk of ovarian cancer as early as the 1980s, but hid that information from regulatory agencies and the general public.
Attorneys for the plaintiff referred to an internal memo that circulated at Johnson & Johnson stating sales of talcum powder products were down due to heightened awareness about the potential risks associated with these products. The memo also suggested targeting Hispanic and African American populations, because these populations were known to have a high usage of talcum powder.
Complaint taken over by son after plaintiff's death
Fox's talcum powder lawsuit was taken over by her son Marvin Salter late last year after his mother's death. Once the case went to trial, the jury spent three weeks hearing evidence and testimony and spent a mere four hours deliberating before awarding Fox's family $72 million.
Although it was the first trial to award damages to a plaintiff, it was not the first to find Johnson & Johnson's talcum powder products led to a cancer diagnosis. In 2013, a South Dakota jury also found that use of these products was the cause of a plaintiff's ovarian cancer and that Johnson & Johnson failed to warn consumers about the risks associated with their products. However, the jury in that case did not award damages.
More trials involving the link between talcum powder and ovarian cancer are scheduled to begin later this year. Stanford University law professor Nora Freeman Engstrom told USA Today that this recent verdict "doesn't bode well" for Johnson & Johnson.
Talcum powder and ovarian cancer
The relationship between talc exposure and ovarian cancer has been studied for nearly 40 years. Concerns were first raised when scientists detected talc incorporated into the tissue of women diagnosed with ovarian cancer. To date, at least a half dozen studies have shown a direct link between use of talcum powder in the genital area and a diagnosis of epithelial ovarian cancer.
Despite the evidence, manufacturers of talcum products have continued to place them on store shelves, touting their safety as a personal hygiene product. Even after this verdict, Johnson & Johnson stated it continues to stand by the safety of cosmetic talc and believe there is decades of scientific evidence to support this safety.