California Couple Settles Talcum Powder Asbestos Case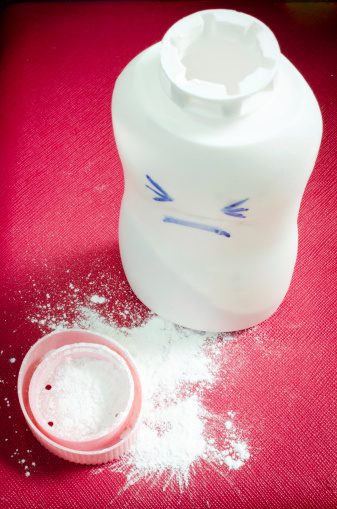 In April, the Colgate-Palmolive Co. was ordered to pay $12.4 million in damages to a woman who filed a talc cancer lawsuit against the company. Judith Winkel and her husband John Winkel of Santa Barbara were awarded the funds after a Los Angeles jury found that an asbestos-contaminated talcum powder was the main cause of her deadly form of cancer. Shortly afterwards, the couple reached a settlement with the company for an undisclosed amount.
Judith Winkel suffers from mesothelioma, which is mainly caused by exposure to asbestos. This aggressive cancer mainly affects the membrane lining of the lungs and abdomen. In fact, malignant mesothelioma is the most serious of all asbestos-related diseases. Exposure to asbestos is the main cause and primary risk factor for mesothelioma. There is currently no cure for the disease, but surgery and chemotherapy can help to improve a patient's prognosis and increase their life expectancy.
Lawsuits alleging asbestos laden talcum powder
The Winkel's two-week trial was the first to allege that Colgate's popular Cashmere Bouquet powder once came from asbestos-contaminated mines and that inhaling the deadly chemical could have caused some consumers to develop mesothelioma. In fact, the Winkel's attorney presented evidence that supposedly proved Colgate sourced talc from mines in Montana, North Carolina and Northern Italy known to be contaminated during the years Judith Winkel used the product. Attorneys for Colgate denied these claims, contending the minerals found in the mines were not in fibrous form, meaning they were not asbestos and did not pose an inhalation risk.
Winkel said she used the powder regularly from around 1961 to the mid-1970's. Colgate sold its Cashmere Bouquet brand back in 1995, but continues to adamantly deny the product was contaminated by asbestos.
As talc is the softest mineral, it is frequently used in cosmetics, pharmaceuticals and even as a food additive. Companies that use talc either claim it contains no asbestos at all or that levels are below detection limits. However, some talc has been mined from deposits containing asbestos. There have even been a few cases where talc suppliers have paid settlements or damages to factory workers who contracted asbestos-related illnesses after using industrial-grade talc.
Lawsuits over the cosmetic-grade talc in body powders only started infiltrating the courts in recent years. In November 2013, a New Jersey jury awarded a mesothelioma victim $1.6 million, after he attributed his illness to asbestos fibers tracked home by his father from his job at a plant where Old Spice and Desert Flower were made. Many other lawsuits are pending against Colgate from plaintiffs who allege damages from its Cashmere Bouquet product.
Talc cancer lawsuits against J&J
Roughly 700 talcum powder lawsuits are currently pending against Johnson & Johnson. Plaintiffs claim the feminine hygiene use of the company's talc powders caused them to develop ovarian cancer. The cases don't challenge J&J's claims that their products are asbestos-free, simply claiming instead that talc is responsible for the harm they've incurred. However, J&J and its talc supplier, Imerys Talc America, claim the talc powders are completely safe.