Baby Powder Cancer Lawsuit Dismissed, No Injuries Alleged in Complaint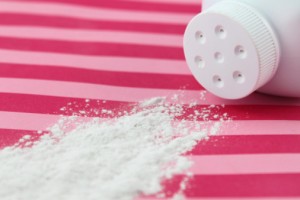 A class action lawsuit brought against baby powder manufacturer Johnson & Johnson has been dismissed by a federal judge, because allegations by the plaintiff did not include any documented injuries. However, many other baby powder cancer lawsuits are currently pending across the country, filed by women who did indeed suffer injuries, including ovarian cancer, after using the powder for hygiene purposes. Those cases will be decided on their own merit, and compensation could be different from this early talc class action lawsuit that merely alleged a risk, rather than a true cause-and-effect from baby powder use.
Lawsuit sought class action status
This lawsuit was filed by Mona Estrada against Johnson & Johnson in U.S. District Court for the Eastern District of California in April 2014. At that time, the plaintiff sought class action status to include all women that had been exposed unknowingly to risks by using J&J's baby powder. In addition to seeking economic damages, Estrada hoped to force Johnson & Johnson to provide proper warnings about the risks associated with their product.
Estrada alleged in her complaint that J&J's baby powder was unsafe, based on clinical studies that showed regular use of the product for feminine hygiene purposes could increase a woman's risk of some types of ovarian cancer. Although Estrada never developed ovarian cancer herself, she claims that she and other women would never have purchased and used the baby powder if they knew about the risk.
The judge overseeing the case, U.S. District Judge Troy L. Nunley, issued an order on March 27 dismissing the lawsuit due to the plaintiff's lack of standing to pursue a claim against the company. Judge Nunley cited "benefit-of-the-bargain," which indicated Estrada had received benefits from the product like elimination of skin friction and excess moisture. Although economic damages are sufficient for a case like this, Judge Nunley also determined Estrada failed to show she was deceived, paid a premium price for the product or would have purchased an alternative product if given the choice.
Baby powder concerns on the rise
This complaint is one of many baby powder cancer lawsuits that have been filed recently nationwide. In other lawsuits, plaintiffs allege they were actually diagnosed with ovarian cancer after using baby powder. Research has linked use of talcum powder around the female genitalia with an increased incidence of ovarian cancer, fueling concerns and litigation regarding these products. Talc has been classified as a "possible carcinogen" by the International Agency for Research on Cancer, and the American Cancer Society has advised women to limit talc use if they are concerned about the cancer risk.
Numerous studies have been performed to analyze the risk of ovarian cancer in women who regularly use talcum powder. One study, published in Cancer Epidemiology, Biomarkers and Prevention in 2008, found that gene variants could impact a woman's overall risk of ovarian cancer from talcum powder use.
Another study, published in Cancer Prevention Research in 2013, found a 20-30 percent increase of ovarian cancer risk in women using talc. Researchers in that study determined powder particles could travel through the woman's reproductive system, causing inflammation and an increased cancer risk.
These studies, as well as others, have prompted some women to file lawsuits against talcum powder manufacturers. In October 2013, a jury in South Dakota determined Johnson & Johnson failed to provide proper warning about the risk of ovarian cancer. The plaintiff in that case, Deane Berg, filed her lawsuit after a cancer diagnosis that followed 30 years of talcum powder use.