Alabama Couple Files Baby Powder Cancer Lawsuit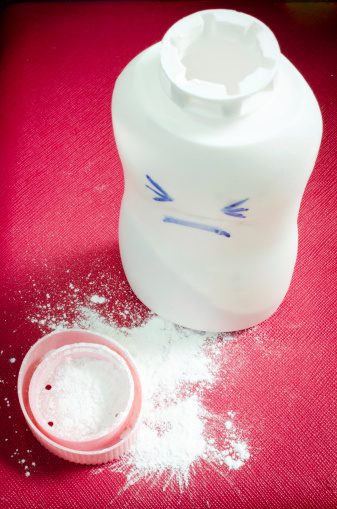 An Alabama couple has filed a lawsuit alleging baby powder-induced cancer against Johnson & Johnson, after the plaintiff allegedly developed the disease from use of products manufactured by the company. Johnson & Johnson baby powder has been marketed to women for years as a way to keep the skin feeling dry, comfortable and odor-free.
The female plaintiff used the defendant's Baby powder to dust her perineum for feminine hygiene purposes from approximately 1980 to May 2014. She was subsequently diagnosed with ovarian cancer on May 29, 2014 at the age of 51 years old. As a result of her injuries, the woman has been forced to undergo numerous surgeries and treatments and will continue to require significant medical attention for the foreseeable future.
The plaintiffs claim Johnson & Johnson knew about the link between talc and ovarian cancer, but intentionally hid this information from the public. They claim the defendants had an obligation to issue a warning on the dangers associated with the product, but chose not to do so.
"The defendants failed to inform its customers and end users of the product of a known catastrophic health hazard associated with the use of its products," states the claim.
Additionally, the plaintiffs believe the defendants knowingly procured and disseminated false, misleading and biased information regarding the safety of the product, to influence governmental and regulatory bodies about talc.
Causes of action listed in baby powder cancer lawsuit
The couple's claim cites a number of claims against Johnson & Johnson, including:
Negligence
Breach of Implied Warranties
Strict Liability for Failure to Warn
Concert of Action
Loss of Consortium
Breach of Express Warranty
Civil Conspiracy
Punitive Damages
Long term exposure to talcum powder tied to cancer
Talcum powder is derived from the mineral talc. It is known to absorb moisture and reduce friction, which makes it an efficient way to keep the skin dry and prevent rashes. Talc is used in many different cosmetics, such as baby powder and adult body powder.
Talc contains asbestos in its natural form. However, talcum products used in homes in the U.S. have been free of asbestos since the 1970s. The two biggest concerns regarding talcum powder and cancer include whether women who regularly apply the substance to their genital area have an increased risk of developing ovarian cancer and if people with long-term exposure to it at work are at a higher risk of developing lung cancer.
There are two types of talcum powder — the form that contains asbestos the form that doesn't. Talc that contains asbestos is thought to have the ability to cause cancer if it is inhaled and is not used in consumer products. However, the impact of the asbestos-free type is still vague.
While talc has the strongest link to ovarian and lung cancer, one study suggested genital talcum powder use may slightly increase the chance of developing endometrial cancer in women past menopause. However, other studies have not found this link so additional research needs to be done to develop a solid conclusion.
Cancer research agencies such as the IARC classify the genital use of talc-based body powder as "possibly carcinogenic to humans."
Meanwhile, J&J continues to face talc lawsuits alleging the company failed to warn about the dangers associated with Baby Powder or Shower-to-Shower used for feminine hygiene purposes.