Zoloft Plaintiffs in MDL Get Second Chance with Expert Witness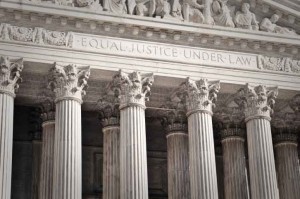 Families who are suing Zoloft manufacturer Pfizer based on allegations that the SSRI caused birth defects in their children have been granted a second chance to present an expert witness, according to a recent ruling by Judge Cynthia M. Rufe. The plaintiffs' Zoloft birth defects lawsuits have been centralized for pretrial proceedings under multidistrict litigation 2342, which is taking place in the U.S. District Court for the Eastern District of Pennsylvania.
Judge Rufe made the ruling on January 7, 2015, which now allows for Dr. Nicholas Jewell, a professor from the University of California at Berkeley, to present expert testimony that in utero exposure to the Zoloft can lead to congenital heart defects.
In the scope of major SSRI antidepressant product liability litigation that has amassed hundreds of plaintiffs, securing a respected expert witness is a significant development, as the testimony of Dr. Jewell may help prove "causation"–that a drug such as Zoloft carries adverse side effects.
Zoloft birth defect lawsuits allege drug is defective
Zoloft is a type of selective serotonin reuptake inhibitor (SSRI) that is commonly prescribed to those suffering from anxiety, depression and panic disorders. Pfizer marketed the medication to women of childbearing age, without disclosing the possibility of adverse side effects in newborns. As lawsuits alleging Zoloft caused birth defects in children began to mount in courtrooms nationwide, the claims were consolidated as federal multidistrict litigation to help expedite the legal process, reduce chance of duplicative discovery and possibly encourage settlement talks.
Judge Rufe was assigned to oversee the Zoloft (Sertraline Hydrochloride) Products Liability Litigation when it was established on April 17, 2012.
Last June, Judge Rufe ruled that Dr. Anick Berard – a different expert witness originally selected by the plaintiffs – would not be allowed to testify, after finding the doctor's opinions were not based on "scientifically valid methodology and reasoning."  Berard's research tied numerous birth defects to Zoloft exposure, but her expert opinion was challenged by Pfizer in a Daubert hearing last April.
Judge Rufe ultimately barred Berard's testimony, but has allowed that of Dr. Nicholas Jewell, who will testify that the SSRI is only linked to heart defects in babies, according to his research.
Judge allows plaintiffs' expert witness
"Although there is some prejudice to Pfizer, in that it will be put to the additional expense required to litigate the admissibility of Dr. Jewell's proposed testimony, this prejudice is not of a character sufficient to warrant denial of the motion," said Judge Rufe in her ruling.
The MDL judge also found that the claimants had not "acted in bad faith" in not selecting Dr. Jewell as a key expert witness earlier in the proceedings.  Rufe stated, "The decision only enables the plaintiffs to put forward a new causation expert as to alleged cardiac injuries that the company will be permitted to challenge. Pfizer remains confident that there is no reliable scientific evidence demonstrating that Zoloft causes the injuries alleged by the plaintiffs."
While the majority of Zoloft birth defect litigation is centralized in federal MDL, there are dozens of claims proceeding in state courts too. Judge Rufe added there was a high likelihood that Dr. Jewell's expert testimony would be used these Zoloft cases as well.