New Study Suggests Talcum Powder Mesothelioma Link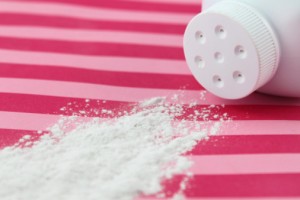 A recent study warns of the link between talcum powder cosmetic products and mesothelioma ─ a lethal form of lung cancer caused by exposure to asbestos. Talcum powder is used by a wide-variety of people, as it is commonly marketed as a post-shower body powder or a baby powder.
U.S. researchers suggest a talcum powder cancer link in the October issue of the International Journal of Occupational and Environmental Health. They indicate that after testing a well-known brand of talcum powder, they discovered it may release inhalable asbestos fibers, which may have ultimately lead to the mesothelioma death of at least one woman. The research team notes that the issue is probably not contained to one brand of talcum powder.
The research team used a transmission electron microscope to investigate talc, simulating bathroom exposures to determine whether they could distinguish an asbestos release from a talcum-based powder. They also explored a case where a woman reportedly died from mesothelioma after using talcum powder for years.
"This brand of talcum powder contained asbestos and the application of talcum powder released inhalable asbestos fibers," noted the researchers. "Lung and lymph node tissues removed at autopsy revealed pleural mesothelioma."
Study on talcum powder cancer
As a rare form of cancer, mesothelioma is thought to only be caused by exposure to asbestos and inhaling the dangerous asbestos fibers. Asbestos products were banned years ago, but cases of this type of cancer are often seen with people who worked with products containing it decades ago.
Patients with mesothelioma often have a very short life-expectancy, as the cancer can be dormant for years after the last exposure. By the time the disease is diagnosed, patients have often been impacted for years. Suspicions of the talcum powder link to mesothelioma date back as far as the 1970's.
Talcum powder is used in a number of products ─ especially those used on babies and by women. Adult women often use it as a hygienic body powder and many parents use it on babies to prevent diaper rash or calm their irritated skin. The results of the study raise red flags about whether this product should be used at all.
Another study, published in the June 2013 issue of Cancer Prevention Research revealed that women using a talc-based hygienic powder may have a 20 to 30 percent higher risk of developing ovarian cancer than those not using the products.
More women filing baby powder lawsuits
Women across the country have filed dozens of talcum powder lawsuits against Johnson & Johnson, claiming the company knew it's talc-based baby powder and Shower-to-Shower products could cause cancer when used for feminine hygiene purposes, but concealed this knowledge.
In October 2013, a South Dakota jury found sufficient evidence linking ovarian cancer with Johnson & Johnson's Shower-to-Shower product. The 56-year-old plaintiff had used the product for decades and subsequently developed the disease.
In April 2014, a Johnson & Johnson Baby Powder class action lawsuit was filed in California. Plaintiffs want to force the company to notify consumers of potentially detrimental side effects associated with the product, including ovarian cancer. The plaintiffs claim Johnson & Johnson has known of the risk for decades, yet failed to warn the public.