Las Vegas Actos Trial Ends in Defense Verdict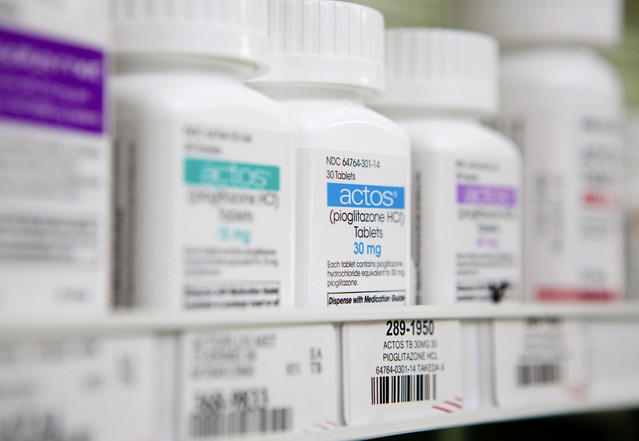 On Thursday, May 22, jurors in the Las Vegas Regional Justice Center handed down a defense verdict for Japanese drug maker Takeda, in an Actos trial that has been closely monitored across the nation. The case was brought by two elderly women — Bertha Triana and Delores Cipriano – both of whom claimed that Takeda failed to adequately warn about bladder cancer risks associated with their blockbuster diabetes drug.
Eighty-year old Triana was diagnosed with bladder cancer after taking Actos for nearly two years, while Cipriano only ingested the drug for nine months when she was diagnosed.  The defense verdict stunned many onlookers who had been watching the Las Vegas Actos trial for nearly three months.
Actos plaintiffs plan to file an appeal
The Las Vegas trial began on February 10 under the auspices of District Judge Kerry Earley. Claimants Cipriano and Triana were seeking $60 million in compensation for their associated medical bills, economic losses, pain and suffering plus billions more in punitive damages. Legal counsel for the plaintiffs was extremely disappointed for his clients, and had a long history of procuring Nevada's most substantial personal injury court awards.
This case is just one of more than 3,000 product liability lawsuits currently pending against Takeda based on allegations that Actos causes bladder cancer and the drug maker was negligent in its duty to warn the medical community and consumers about increased risks. These accusations have been backed by a handful of medical studies and a 2011 FDA safety communication that indicated Actos exposure for one year or longer was linked to an increased chance of developing bladder cancer.
"We agree with the verdict, and we appreciate the jury's time and their efforts," said attorneys for Takeda after hearing the verdict. Jurors opted not to comment on their decision after deliberating through mid-day Thursday. Triana and Cipriano's lawyer says his clients intend to appeal the verdict, adding they may have grounds for a new trial based on earlier misconduct by defense attorneys.
Takeda lawyers accused of misconduct
The Actos trial was mired with headlines that defense counsel had repeatedly acted disrespectfully toward Judge Earley, who labeled their conduct as "absolutely very egregious." The judge responded with sanctions pertaining to jury instructions. Judges presiding over both the Las Vegas case and another Actos trial in Louisiana told jurors that the defense had destroyed vital documents, which they believe would have been beneficial to plaintiffs.
Takeda earns billions in revenue from Actos sales, and first launched its insulin-sensitizing drug to Americans in 1999. Since then, thousands of patients have reported life-threatening side effects ranging from congestive heart failure to bladder cancer. Actos lawyers for Triana and Cipriano argued that Takeda consciously disregarded the risk of bladder cancer during the relevant times their clients were taking the medication, and should be held liable for such negligence, contending that even short-term trials show that Actos can cause bladder cancer.
Leaving the Nevada courtroom, Cipriano and Triana were disheartened. "These are not numbers in a study," their attorney said, adding "They are good human beings. They trusted Takeda, and they suffered dearly for it."