Maryland Man Receives $1.75 Million Risperdal Verdict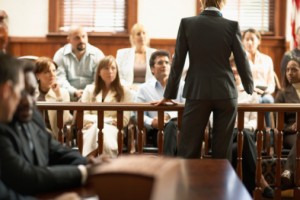 A Philadelphia jury has ordered Janssen Pharmaceuticals — a Johnson & Johnson subsidiary — to pay $1.8 million to a man who developed breasts while taking the pharmaceutical giant's antipsychotic drug Risperdal.
Jurors determined that the company knew the prescription medication could trigger atypical breast growth, but failed to properly warn patients and the medical community of the risk.
Nicholas Murray, a 21-year-old Maryland resident, started using the drug as a young boy and ultimately developed breasts. The jury awarded him damages for the mental anguish he suffered from these side effects and the disfigurement to his body.
"We will consider our options going forward," said Janssen Spokeswoman Robyn Frenze, in an emailed statement. "Dealing with child psychiatric disorders can be very difficult for families and we sympathize with the plaintiff, Nicholas Murray, and his family."
Thousands of Risperdal lawsuits filed
Risperdal received FDA approval in 1993 to treat schizophrenia in adults and adolescents and Bipolar I disorder in adults, adolescents and children. It is also prescribed to manage systems of irritability associated with autism in children and adolescents.
Johnson & Johnson and Janssen currently face approximately 5,400 Risperdal lawsuits in courts throughout the country. Approximately 1,500 cases filed by men who claim the drug caused them to develop breasts are currently pending in the same Pennsylvania court that Murray's litigation took place. According to an October SEC filing, the drugmakers have established a reserve with respect to pending product liability litigation.
In February 2015, 20-year-old Austin Pledger was awarded $2.5 million in damages, after a different Philadelphia jury determined Risperdal caused him to develop size 46DD breasts. The Alabama man suffers from autism and began taking the drug as an 8-year-old child. Pledger was ruled incapacitated by the courts, so his mother testified on his behalf about the mental anguish he suffered as a result of the abnormal breast growth. Pledger will have to undergo a mastectomy to get rid of the breasts.
A few years back, in August 2012, 21-year-old Aaron Banks was ready to testify that the antipsychotic drug caused him to grow breasts, but Johnson & Johnson settled out of court shortly before his trial was scheduled to begin. Banks began taking the drug when he was nine years old in 1999 and continued taking it until 2004. He later had his breasts surgically removed.
J&J pays millions to resolve false advertising claims
In August 2012, Johnson & Johnson and Janssen agreed to pay $181 million to settle allegations by 36 states that it falsely marketed the drugs Risperdal and Invega. The companies were accused of promoting the antipsychotic drugs for off-label uses from 1998 to 2004. According to New York Attorney General Eric Schneiderman, it was the biggest multi-state consumer protection pharmaceutical settlement to-date.
"This landmark settlement holds the companies accountable for practices that put patients in danger, and serves as a warning to other pharmaceutical giants that they must play by one set of rules," Schneiderman said in a statement.
Johnson & Johnson agreed to not promote the drugs for uses that have not received FDA approval or engage in false marketing practices. The company has not admitted any wrongdoing or liability in regards to the marketing of its products.