FDA Requests That Pfizer Update Zoloft Label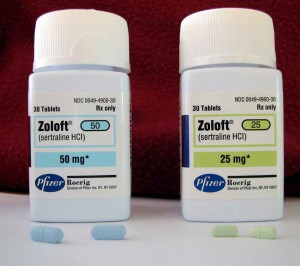 The U.S. Food and Drug Administration has asked Pfizer to update its Zoloft safety warnings to acknowledge that some studies have linked the antidepressant to infant heart defects. There is still no concrete evidence definitively connecting the drug to birth defects, but some researchers have noted an "increased risk of congenital cardiac defects" in newborns whose mothers took the medication while pregnant, according to papers filed in early September.
The FDA made the request in August, as part of a widespread initiative to reformat drug labels on an industry-wide basis, said Pfizer in an emailed statement to Bloomberg.
"The new language, which is still in draft form, reflects the extensive science supporting the safety and efficacy of Zoloft, stating a complete review of the scientific evidence finds that there is no difference in birth defect risks between pregnant women who took Zoloft and those who did not," Pfizer said.
Current label doesn't warn of birth defects
Pfizer is currently facing hundreds of lawsuits brought by women who accuse the company of failing to warn that the drug could cause their babies to be born with birth defects. According to some legal experts, the additional language on the label could help Pfizer avoid future lawsuits, but it could also hurt them, supporting claims of those who have already sued the company over the drug.
In their suggestions, the FDA noted that most Zoloft research found "no difference in major birth defect risk" for women using the drug while pregnant. The label currently states there are "no adequate and well-controlled" studies of pregnant women.
Pfizer continues to maintain that the drug doesn't cause birth defects and that it took all necessary steps to warn patients and the medical community about its risks.
In early 2015, Pfizer officials successfully convinced juries in St. Louis and Philadelphia that its current label encouraged doctors to carefully study the risks associated with Zoloft before prescribing it to pregnant patients. Both panels ruled in favor of the pharmaceutical giant, in the only two cases that have made it to trial. The first federal Zoloft lawsuit is scheduled to start in January 2016.
Zoloft and pregnancy risks
Approximately eight to 20 percent of pregnant women are plagued by clinical depression. These mothers-to-be are faced with the difficult choice of continuing to take their medication during pregnancy and risk birth defects or going off the medication and potentially relapsing.
Scientists at the Slone Epidemiology Center at Boston University conducted a long-term study of birth defects and drug use during pregnancy. The team analyzed popular antidepressants in the selective serotonin reuptake inhibitors (SSRIs) class, including Zoloft, Prozac, Celexa and Paxil. Their study included nearly 10,000 infants born with birth defects and 6,000 healthy newborns, concluding that women who took Zoloft during pregnancy were twice as likely to have a child born with birth defects.
The results appear shocking, but Allen Mitchell, director of the Slone Epidemiology Center said the risk is actually very low, as the rate of  defect is so small that even a doubled risk is still very unlikely. He said mothers should be informed of the risks associated with Zoloft and other SSRIs, but notes that depression can also be extremely damaging to a fetus.