Granuflo Lawsuit Alleges Fatal Cardiac Event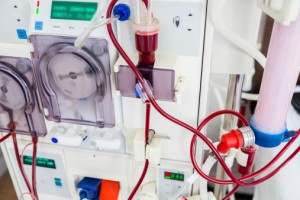 Another Granuflo lawsuit involving a wrongful death has been filed in the coordinated proceedings currently underway in U.S. District Court in Massachusetts. This plaintiff has filed a complaint on behalf of a deceased family member who died after receiving dialysis treatment using Granuflo or Naturalyte products manufactured by Fresenius.
The complaint joins hundreds of others in the Massachusetts court that also claim the dialysis products led to severe injuries and death.
Granuflo lawsuit filed by survivor
Daniel Arrington filed his lawsuit on behalf of the estate of Clarence Arrington on August 17, 2015. According to the complaint, Clarence Arrington suffered a "severe adverse cardiovascular event" after undergoing dialysis treatment that involved Naturalyte or Granuflo. The treatment occurred at a Fresenius clinic in Mississippi.
Like other cases involving these products, Arrington is accusing Granuflo manufacturer Fresenius of producing a defective dialysis product and failing to warn the medical community and general public about the potential risks. The products have allegedly led to an assortment of injuries, including cardiovascular complications, heart attack, stroke and death.
Unique formulations underscore problems
The problem with the Fresenius products appears to lie in their unique formulations. These substances are used to control acid buildup and maintain a proper pH balance during hemodialysis treatment. However, the specific formulations, which are not seen in other hemodialysis products, can lead to an abnormally high level of bicarbonate in the blood if their administration is no carefully administered. Elevated levels of bicarbonate can lead to potentially deadly side effects, including cardiac events and death.
On June 2012, the FDA issued a Class I recall for Granuflo and Naturalyte, after multiple reports of serious adverse events linked to the product. A Class I recall means the medical device or product could lead to serious, permanent injury or death. The agency warned at that time that "inappropriate prescription of these products can lead to high serum bicarbonate levels in patients undergoing hemodialysis," which can lead to cardiac arrhythmias and cardiac death.
Lawsuit number continues to grow
Unfortunately, the recall came too late for many that underwent hemodialysis treatment that included the Fresenius products. Hemodialysis is a treatment used for patients experiencing renal failure. The procedure cleanses the blood in a similar fashion to the kidneys, when the organs cannot perform this function on their own. It is a treatment many experiencing kidney failure depend upon to maintain their health. Unfortunately, when the treatment involves Naturalyte or Granuflo, the consequences can be catastrophic for some patients.
Like others pursuing legal action against Fresenius Medical Care, Arrington has listed a number of counts against the medical device manufacturer in his claim, including negligence, breach of warranty, fraud and strict liability. In addition, this plaintiff has listed wrongful death, loss of consortium and survival action in their counts, as the plaintiff lost a beloved family member. The case has joined the Granuflo and Naturalyte multidistrict litigation currently underway in Massachusetts, which was established to streamline early trial proceedings for a growing number of cases with similar allegations and issues of fact.