Death of Baby Prompts Zofran Lawsuit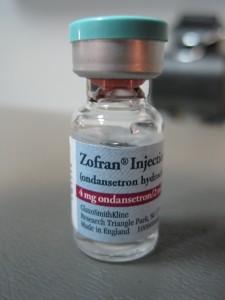 An Ohio family has filed a lawsuit against GlaxoSmithKline (GSK), alleging that Zofran caused heart defects that led to the death of an infant. The Zofran lawsuit is currently pending in the U.S. District Court for the Northern District of Ohio, Western Division. The plaintiffs are demanding a jury trial and compensatory damages in excess of $75,000.
Heart defect led to death
According to the complaint, the mother was pregnant with her first child when she informed her physician that she was experiencing morning sickness. Her physician prescribed Zofran to relieve her nausea and vomiting. The lawsuit states that the mother took Zofran as directed for an unspecified period of time and that no complications were noted with her pregnancy until nine days prior to delivery.
At this point, the baby's heart was recorded as having decelerated. The minor child was born on March 17, 2006 and the attending healthcare providers immediately diagnosed her with a right ventricle heart defect. The baby was transferred to the intensive care unit (ICU), where she stayed until her death three days later. The family's Zofran lawsuit claims that their baby's heart defects were a result of the mother having used the medication that the defendants designed and manufactured.
About Zofran
Zofran (ondansetron) is a type of medication called a serotonin 5-HT3 receptor antagonist, which means that it works in the body by blocking the effects of serotonin. Zofran was first approved by the FDA in 1991. At that time, it was indicated for the treatment of nausea and vomiting among patients undergoing chemotherapy. Later, GSK obtained FDA approval for the indication of Zofran to treat nausea and vomiting among patients who had undergone surgical procedures.
The FDA has not approved Zofran to treat nausea and vomiting in women who are pregnant.
Zofran lawsuits, such as the one filed by the family from Ohio, allege that the defendants improperly promoted the sale and use of Zofran for off-label use. It's important to note that it is considered acceptable for physicians to prescribe medications to treat symptoms and conditions for which they have not been approved, and that it is a widely used practice.
In 2012, the U.S. Department of Justice announced a settlement agreement with GSK, in which GSK agreed to pay $3 billion to resolve claims regarding its alleged improper promotion of drug products and other allegations. The settlement extended to other drugs than just Zofran. At the time of this announcement, the settlement was the largest healthcare settlement in the U.S. However, GSK has continued to maintain its stance that the company has never committed any wrongdoings with regard to the marketing tactics used to promote Zofran or other drugs.
Zofran lawsuits
The Zofran birth defects lawsuit filed by the Ohio family alleged that the drug caused the child's heart defect, which subsequently caused her death. Other lawsuits filed against GSK have raised similar allegations, including claims of heart defects. Some lawsuits have made claims that the drug allegedly caused facial deformities, hearing problems, and inguinal hernia. However, clinical evidence that links Zofran to these defects is lacking.
Zofran injury lawyers across the country continue to review cases of women who believe their use of ondansetron during pregnancy may have caused their child's birth defects.