Intracranial Hemorrhage Subject of Xarelto Lawsuit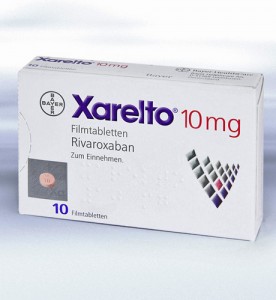 For patients suffering from the condition known as atrial fibrillation – or "A-fib" – an anti-coagulant drug is often used to help prevent the formation of deadly blood clots. For generations, doctors prescribed the drug known as warfarin to A-fib patients, until the newer blood thinning drug Xarelto was introduced to the market in 2011.
While some have lauded Xarelto for reducing the monthly bloodwork requirements, others have objected to its blood thinning capabilities for which no antidote is currently available. Moreover, the use of Xarelto has been linked with deadly internal hemorrhaging – particularly during surgery – prompting the filing of several lawsuits against its manufacturer Janssen Pharmaceuticals and Johnson & Johnson.
Plaintiff alleges wrongful death of family member
In a Xarelto lawsuit filed on March 26, 2015 in United States District Court for the Southern District of Ohio, the plaintiff – and surviving heir – of a deceased Xarelto patient has alleged that defendants unlawfully marketed the drug as safe when each knew or should have known of the risks of hemorrhage. According to allegations, the deceased patient suffered from atrial fibrillation and was prescribed Xarelto in order to curtail the increased risk of developing a life-threatening blood clot.
For approximately one year, the decedent took Xarelto under the supervision of his physician. On or about March 28, 2013, the decedent experienced an intracranial hemorrhage, for which no antidote was possible.  As a result he suffered severe personal injuries and emotional distress – and eventually succumbed to his condition.
Xarelto lawsuit allegations
The plaintiff continues her allegations by detailing the allegedly exorbitant marketing budget earmarked for the Xarelto product, with virtually no focus on the dangers of the drug. In her complaint, the plaintiff points to the pre-market studies conducted on Xarelto, which were conducted on knee and hip replacement patients in need of a blood thinner to control the risk of clotting.
In those studies, the plaintiff asserts that Xarelto has shown no superior qualities to the traditional drug known as warfarin, and was only used in a limited panel of patients. Nonetheless, the drug is marketed as far superior to the outmoded warfarin – which requires inconvenient weekly blood monitoring – and a safer alternative for patients suffering from A-Fib.
Alarmingly, the plaintiff also cites a finding in clinical studies that "bleeding from gastrointestinal sites, including upper, lower, and rectal sites, occurred more frequently in the [Xarelto] group, as did bleeding that led to a drop in the hemoglobin level or bleeding that required transfusion."
The plaintiff raised the following causes of action against Janssen and Johnson & Johnson:
Negligence
Strict products liability
Breach of express and implied warranties
Fraudulent misrepresentation
Fraudulent concealment
Negligent misrepresentation
Fraud and deceit
Loss of consortium
Wrongful death
This lawsuit is one of hundreds alleging dangerous internal bleeds caused by Xarelto. The blood thinning drug Pradaxa has also been named in several thousand lawsuits involving similar allegations of concealed bleeding risks. To date, Xarelto cases remain individual in nature, and no multidistrict litigation (MDL) has been set up. However, it is not uncommon for these types of cases to move to MDL as the number of plaintiffs increases.