Bayer Faces Xarelto Class Action Lawsuit in Canada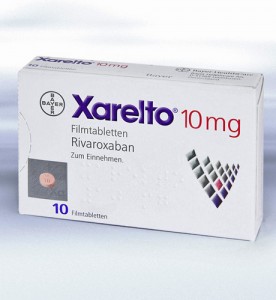 In addition to a growing number of cases in the United States, Bayer now faces a Xarelto class action lawsuit in Canada. Plaintiff Betty Samson filed the complaint in Calgary and another is likely to follow in Ontario, where an elderly woman bled to death while taking the drug. The complaint includes claims for Canadian residents who have suffered uncontrollable bleeding incidents that were allegedly caused by the anticoagulant.
Xarelto is a prescription drug used to reduce the risk of stroke and blood clots in patients with atrial fibrillation, not caused by a heart valve problem. The drug is also used to treat people with deep vein thrombosis and pulmonary embolism and to reduce the risk of forming a blood clot in the legs and lungs of those who have recently had knee or hip replacement surgery.
This next-generation anticoagulant received FDA approval in 2011 and was widely considered as an effective alternative to Coumadin (warfarin), which was previously the leading medication used to prevent blood clots and strokes by patients with atrial fibrillation.
Xarelto class action lawsuit
The complaint alleges that Samson went into cardiac arrest in September 2012, when doctors were unable to quickly stabilize internal bleeding linked to her Xarelto use.
"The health care professionals who were treating Betty for this hemorrhaging had considerable difficulty in stopping her bleeding," states the claim. "They advised her that Xarelto was the cause of her hemorrhaging and that, unlike other anticoagulants such as Warfarin, there was no way to reverse the anticoagulant effects of Xarelto."
According to the complaint, Health Canada has received at minimum of 1,100 adverse event reports concerning Xarelto side effects.
Samson's lawsuit raises complaints similar to those filed in by plaintiffs in the United States. Americans have filed more than 220 product liability cases against Bayer and Johnson & Johnson's Janssen subsidiary in federal courts across the country.
Xarelto MDL
In December 2014, Xarelto complaints in the U.S. were consolidated under multidistrict litigation in the Eastern District of Louisiana. U.S. District Judge Eldon E. Fallon is overseeing the cases. The MDL process is designed to avoid conflicting pretrial rulings, avoid duplicate discovery and help each side conserve resources. A small group of cases will be scheduled for early trial dates, known as bellwether trials, to help both sides gauge the jury reaction to certain evidence and testimony that is likely to be repeated in a significant number of cases.
Risks of internal bleeding
All patients taking blood thinning medication are at a risk of a bleeding injury, but Xarelto has been connected to a large number of adverse incidents. The drug has been marketed as a superior alternative to warfarin, as it doesn't require regular blood monitoring, but several recent studies have suggested that regular blood monitoring may in fact help doctors identify Xarelto patients with the greatest risk of suffering from a bleeding incident.
Additionally, plaintiffs claim Xarelto drug makers purposely withheld information about the lack of a reversal agent for the drug, which doctors could use in the event of hemorrhaging. Warfarin's blood thinning effects can be quickly reversed in an emergency, but there is currently no reversal agent for Xarelto. Consequently, many doctors have been unable to control internal bleeding incidents that have left patents with severe injuries or even led to their untimely death.