Californian Joins MDL Linking NaturaLyte, GranuFlo and Sudden Cardiac Arrest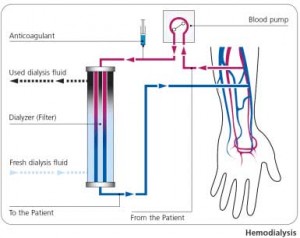 A California resident is the most recent complainant in the ongoing federal court battle against Fresenius Medical Care (FMC), the world's largest dialysis services and products company. Mr. Ronnie Miller, the Plaintiff, is the anticipated Administrator of the estate of Lula Brown, who died of sudden cardiac arrest in December, 2011, after a dialysis treatment at Davita-Tree Dialysis, in Fresno, California.
The complaint has been centralized along with over 2,200 other Fresenius dialysis lawsuits in MDL No. 2428 (Fresenius Granuflo/Naturalyte Dialysate Products Liability Litigation) in U.S. District Court, District of Massachusetts. A central complaint in the litigation is that the use of NaturaLyte and/or GranuFlo Dry Acid concentrates in dialysis treatments caused serious health problems, including cardiopulmonary arrest, and or sudden cardiac arrest resulting in death.
The complaint states that not only were the two products defective but that Fresenius, the Defendant, failed to warn the patients and the medical community of their defective nature until March 2012, after the results of an internal study had been anonymously leaked to the FDA, forcing an FDA recall.
NaturaLyte and Granuflo and sudden cardiac arrest
NaturaLyte and GranuFlo are acid concentrates, which when combined with a bicarbonate concentrate, make a dialysate, which is used in hemodialysis, a procedure used to cleanse the blood of waste products in patients with end-stage renal disease or kidney failure. According to the Master Complaint, the keys of dialysis are 1) removal of waste products from the body; 2) the promotion of electrolyte balance in the blood; and 3) the addition of bicarbonate to the patients' blood to correct acidosis.
Acetates are introduced into the blood during dialyses which are then converted by the liver into bicarbonate, a necessary component of the dialysis process. However, NaturaLyte and GranuFlo contain sodium diacetate (two acetates), whereas other dialysis products contain only one acetate. The two acetate molecules in NaturaLyte and GranuFlo are then converted into two molecules of bicarbonate which, for dialysis patients, is a dangerously high level of bicarbonates in the blood, a condition called alkalosis.  Alkalosis has been determined to be a significant risk factor for cardiopulmonary arrest.
Internal study of NaturaLyte & GranuFlo and sudden cardiac arrest leaked
The problems with the products came to light as the result of an internal study done by Fresenius in 2010 as a response to 941 incidents of cardiac arrest in 667 FMC-owned clinics (FMC owns its own clinics and sells dialysis products and equipment to other independent operators). The study found a risk factor of sudden cardiac arrest six times higher than expected if the patients received treatment with either NaturaLyte or GranuFlo if they already had higher than normal bicarbonate levels in the blood.
In November 2011, a year later, Fresenius distributed a warning to health care professionals in Fresenius-owned clinics to exercise extreme caution when using GranuFlo in hemodialysis treatments because of the findings of the 2010 study. It did not, however, issue any warning to non-Fresenius clinics and the 100,000 dialysis patients receiving treatment with NaturaLyte and GranuFlo in those clinics.There are currently more than 5,700 dialysis centers providing service to approximately 400,000 dialysis patients in the United States.
FDA issues recall linking NaturaLyte, GranuFlo and sudden cardiac arrest
On March 2, 2012, an anonymous complaint to the FDA raised concerns about elevated bicarbonate levels and NaturaLyte and GranuFlo dosage errors causing cardiopulmonary arrests after dialysis treatments. The internal November 2011 memo to Fresenius-owned clinics was also leaked to the FDA.
As a result of the FDA's new knowledge of the serious problems associated with NaturaLyte and GranuFlo, Fresenius Medical was forced to issue an "urgent product notification" on March 29 to all non-Fresenius owned clinics informing them of the significant risk factor of alkalosis and urging a high level of judgment when treating dialysis patients with the two products.
At the same time, the FDA issued a recall of Granuflo and NaturaLyte products, which the FDA upgraded in June 2012 to a Class I Recall. This type of recall is reserved for products in which there is a "reasonable probability that the use of or exposure to a violating product will cause serious adverse health consequences or death".
The first bellwether trials in the Fresenius MDL are expected to begin in January 2016.