New Xarelto Bleeding Lawsuit Filed in California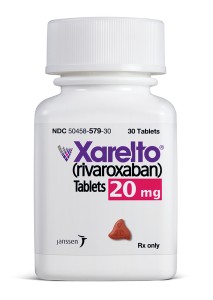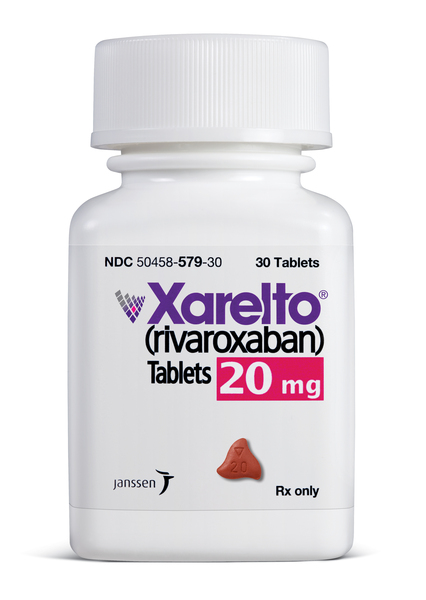 Fraudulent concealment, negligence and fraud are just some of the causes of action leveled against Xarelto manufacturers by a California plaintiff who suffered personal injuries after ingesting the drug. The product liability lawsuit is just one of dozens which claim the anticoagulant is defective and inherently dangerous due to its propensity to cause irreversible bleeds, when used as intended.
First approved by the FDA in 2011, Xarelto is prescribed to help reduce risk of DVT, blood clots and pulmonary embolism in patients who've had hip or knee replacement surgery. Its primary use however, is to reduce chance of stroke in patients diagnosed with non-valuvular atrial fibrillation (AF). In 2012, FDA regulators expanded the uses for the blood thinner to include treatment of pulmonary embolism and deep vein thrombosis, in addition to long-term therapy to prevent repeated PE and DVT.
According to the plaintiff's Xarelto lawsuit, the defendant promoted the medication as a "one size fits all" drug, failing to warn consumers about the severity, scope and possibility of bleeds and other dangerous conditions.
Xarelto lawsuit allegations
The complaint is being brought against Janssen Research & Development, Johnson & Johnson, Janssen Pharmaceuticals and Bayer Corporation – manufacturers and distributers of Xarelto. Plaintiff Joseph Leahy is demanding monetary compensation in excess of $75,000.00, and filed his claim in the U.S. District Court of Southern California, where he hopes to recover the following damages:
Past and future medical costs
Pain and suffering
All economic damages related to his injuries
Punitive damages to punish the defendants
Litigation and attorney fees plus interest
It is alleged that the defendants "misleadingly, falsely and/or deceptively misrepresented and omitted numerous material facts regarding the utility, benefits, costs, safety, efficacy and advantages of Xarelto," thus putting patients like Leahy in grave danger of injury. During their aggressive marketing campaign, Xarelto manufacturers promoted the medication as a safe and effective prescription blood thinner that did not require routine monitoring for adverse effects.
Warfarin, the standard anticoagulant used for more than 50 years, was cumbersome for many in that patients needed regular blood tests to adjust dosages. Xarelto didn't need such measures, according to its product label and sales pitch, but patients who suffered internal bleeding episodes were not told that Xarelto had no reversal agent or antidote.
The central allegation in Xarelto lawsuits being filed across the United States is that defendants used deceptive and misleading advertising, which overstated the medication's benefits while minimizing risks. If it is proven that Janssen failed to warn of Xarelto bleeding risks, the company could be held liable and forced to pay substantial reparations, whether through a massive settlement or individual verdicts.
Plaintiff suffers bleed to the eye
After beginning Xarelto under the guidance of his doctor in 2013, Leahy suffered bleeding which necessitated medical attention on February 4, 2013. The bleed in his eye, states the complaint, caused significant physical damages and resulting economic losses.
Had the defendants adequately warned about potential side effects of Xarelto, Leahy contends he would never have used the drug in the first place. And had the makers disclosed the need for routine monitoring and dosage adjustments, Leahy and others could have avoided hospital stays, medical bills and personal injuries.
If Xarelto litigation continues to escalate at the current pace, cases may eventually be centralized as a mass tort or multidistrict litigation for more efficient pretrial proceedings.