Study Shows Xarelto Bleeding Risks Equivalent to Warfarin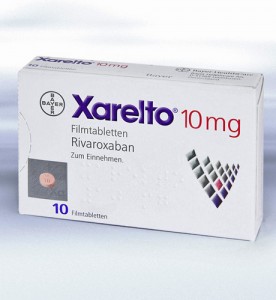 New research published in the Canadian Journal of Cardiology suggests that Pradaxa and Xarelto bleeding risks may be no different than those of Warfarin (Coumadin). The study – conducted at Southlake Regional Health Centre in Ontario– examined 901 patients who took Warfarin and newer anticoagulants Pradaxa and Xarelto. After looking at the number of transient ischemic attacks (TIAs), strokes and other internal bleeding events sustained by cardioversion patients given the drugs, the study authors determined Xarelto was no safer than Warfarin when it came to bleeding events.
"Bleeding rates were low, with no significant difference between the groups," noted the study team, who concluded that all three medications may be appropriate treatments for individuals with atrial fibrillation.
Xarelto bleeding risks
Xarelto (generic name: rivaroxoban) is manufactured by Bayer in conjunction with Johnson & Johnson's Janssen Pharmaceuticals. Launched in 2011 on the heels of Boehringer Ingelheim's blockbuster Pradaxa, Xarelto sales have since surpassed its predecessor, raking in millions in profits for its maker.
Both blood thinners were heralded as the first replacement for Warfarin in more than six decades. The original stroke-prevention drug was cumbersome to take, and required routine blood work as well as dietary and lifestyle restrictions.
Pradaxa and Xarelto were designed to bypass the risks of Warfarin, including brain bleeds, and become the backbone of an emerging market worth more than $10 billion a year. In order to garner a market advantage, Xarelto makers promoted the drug as safer and more convenient to use, without the need for regular blood monitoring. Though any type of blood thinner carries an increased risk for bleeding events, the primary concern with Xarelto and Pradaxa is that neither have an antidote to stop hemorrhaging once it begins.
Warfarin-induced bleeds can be stopped with a high dose of Vitamin K, but no such reversal agent exists for Xarelto, which can cause patients to suffer severe personal injury or death in the event of a hemorrhage.  A 2014 report issued by The Institute for Safe Medication Practices (ISMP) showed at least 680 adverse events in relation to Xarelto bleeding in the U.S. last year.
Lawsuits filed over uncontrolled bleeding
Over the last few years, a growing number of Xarelto lawsuits have been brought by injured patients and their surviving relatives who are now demanding fair compensation for Bayer's alleged misconduct in the marketing and promotion of the drug.
At the crux of litigation are accusations that the drug maker should have mandated or at least recommended regular blood monitoring with Xarelto, in order for doctors to adjust doses to avoid adverse bleeding events. Claimants allege that the pharmaceutical companies once again put their financial bottom line ahead of consumer safety, by touting Xarelto as a safer blood thinner that does not require monitoring.
Xarelto litigation is only just emerging, with roughly 50 product liability claims filed in district courts throughout the nation. Xarelto plaintiffs recently petitioned the U.S. Judicial Panel on Multidistrict Litigation (JPML) to coordinate all federally-filed claims before one judge in order streamline pretrial processes. The JPML just announced centralization of all Xarelto injury cases before Judge Eldon E. Fallon in Louisiana District Court.
The Xarelto multidistrict litigation consolidates similar claims in one court to allow both sides to share in discovery, and help avoid the incidence of inconsistent pretrial rulings. The outcomes of any bellwether trials will not affect other plaintiffs in the MDL, but may help spark settlement negotiations if jurors side with the plaintiffs.
Xarelto lawyers across the country continue to review cases of patients who were injured while taking the blood thinner, to determine if they are eligible to join the growing federal litigation.