Xarelto Lawsuits May Be Headed For MDL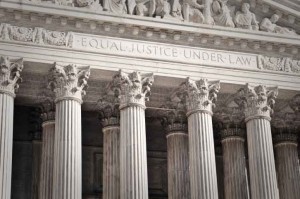 Plaintiffs across the country have filed at least 21 Xarelto lawsuits against the maker of the popular blood thinner. The product liability lawsuits have been filed in 10 separate federal district courts. A group of the federal plaintiffs have now filed a motion for transfer requesting that the U.S. Judicial Panel on Multidistrict Litigation consolidate the cases in the Southern District of Illinois.
The motion requests that the federal Xarelto bleeding lawsuits, if consolidated, be assigned to Judge David R. Herndon. The attempted MDL seeks to promote consistency among the cases – the assigned judge can make uniform discovery and other pretrial rulings that apply to all pending cases. The judicial panel is expected to make a decision on consolidation after an oral hearing in early December.
Xarelto part of new generation of anticoagulants
Xarelto is manufactured by Johnson & Johnson and entered the market in 2011. It is one of several anticoagulants in recent years that have been promoted as safer alternatives to the blood thinner warfarin. The long-prescribed warfarin was approved by the FDA more than half a century ago, but dosing must be personalized and monitored by doctors. The dose must be adjusted according to factors like a patient's age and diet. But since it works by slowing down the body's production of vitamin K, a dose of vitamin K can reverse excessive bleeding.
Warfarin patients need to have their diets and vitamin levels checked regularly because certain foods can interfere with how the blood thinner works. The new generation of anticoagulants, that includes Xarelto, Pradaxa, and Eliquis, changed the scene when they were advertised as safer to use because they require less monitoring. The problem, however, is that because Xarelto and related drugs do not work by slowing vitamin K, unexpected bleeding cannot be reversed with a dose of the vitamin. In fact, there is no known antidote for these blood thinners.
No antidote for Xarelto bleeding
The Xarelto lawsuits stem from injuries that the plaintiffs claim have been caused by excessive bleeding as a result of the blood thinner. These include medical expenses for treatment of Xarelto brain bleeds and other unwanted bleeding, funeral expenses in cases where the excessive bleeding led to wrongful death, and related pain and suffering and emotional damages. The lawsuits claim that the manufacturer did not thoroughly test Xarelto and withheld evidence that it was unsafe.
The Journal of Neurosurgery recently released a thorough study by a group of Pennsylvania researchers that examined the effectiveness of medical treatments most often used to reverse anticoagulant-related brain hemorrhages. It considered methods like vitamin K shots and transfusions. They found that anywhere between 0% and 16% of warfarin patients experienced excessive bleeding each year, with up to 2.9% of those experiencing fatal bleeding events. But the bleeding was often successfully halted or reversed with the vitamin K dose.
The researchers found that the newer blood thinners varied in their controllability. For example, though Pradaxa bleeding could not be stopped, it could be slowed with quick action including treatment of activated charcoal or immediate dialysis. Xarelto, however, is processed more quickly so these treatments were less effective and the bleeding events more serious. There is still no sign of an antidote for Xarelto on the horizon.
Xarelto lawyers are currently reviewing cases of bleeding victims to determine their eligibility for seeking compensation.