Research Sheds Light on Benicar Side Effects and Diabetes Risk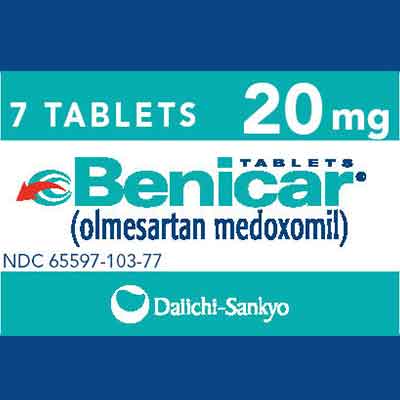 Angiotensin II type 1 receptor blockers (ARBs) are commonly used in the treatment of hypertension (high blood pressure) and heart failure. Benicar, manufactured by Daiichi Sankyo, is one of the more widely prescribed ARBs since its FDA approval in 2002.
Also known by its generic name olmesartan medoxomil, Benicar has been associated with a host of serious side effects, including vomiting, chronic diarrhea, nausea and dramatic weight loss.
A new study by Taiwanese researchers has shown that potential Benicar side effects and those of other angiotensin receptor blockers may also include an increased diabetes risk. The research was published last month medical journal Cardiovascular Diabetology.
Emerging research on diabetes and Benicar risks
In their research, Taiwanese scientists analyzed medical records from close to a half a million patients who took Angiotensin II type 1 receptor blockers over a five year period spanning from 2004 to 2009. The team looked for patients with newly diagnosed cases of Type 2 diabetes — of which there were 65,358 cases — to determine what effect ARBs like Benicar had on patient health.
According to the findings, angiotensin receptor blockers were generally tied to a 15 to 25 percent drop in diabetes risk. However, individuals taking the medications Benicar and Micardis did not benefit from this side effect. Researchers concluded that "among all ARBs, olmesartan might be associated with a slightly increased risk of diabetes mellitus. Our data suggest differential diabetes risks associated with ARBs beyond a class effect."
Their data found that exposure to Benicar might raise a patient's risk for diabetes by as much as nine percent, though more research is needed to establish the association of different ARBs with new-onset diabetes mellitus.
Benicar side effects and sprue like enteropathy
Unregulated blood sugar levels aren't the only concern with Benicar exposure. Last year, health regulators at the FDA issued a safety communication alerting the public and medical community about gastrointestinal problems tied to Benicar and the risk of sprue-like enteropathy. Sprue manifests with relentless digestive issues that are akin to symptoms of Celiac's disease.
The FDA Benicar warning came on the heels of a Mayo Clinic study, which found a large number of olmesartan users suffering from severe diarrhea, excessive weight loss, malnutrition and other signs of sprue-like enteropathy. Hospitalization was required to address dehydration and malnutrition in more severe cases. Fortunately, once Benicar was discontinued, gastrointestinal problems resolved for most patients, but those who took the drug long-term were more at risk for villous atrophy, or damage to the lining of the intestinal walls.
Presently, no other ARBs have been shown to cause sprue-like symptoms, which can begin months or even years after taking Benicar. It is now thought that the hypertension drug may be the culprit in more than 20 percent of undiagnosed sprue cases.
In the wake of mounting evidence of adverse Benicar side effects, Daiichi Sankyo and Forest Laboratories are facing litigation from injured consumers who claim the product lacked sufficient warnings. Benicar lawsuits are demanding monetary damages for related medical costs, lost income, pain and suffering, and other losses.