Zofran Lawsuits Consolidated Under Multidistrict Litigation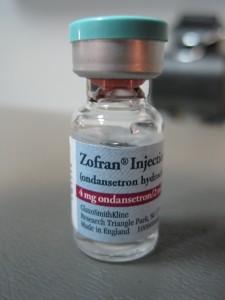 The U.S. Judicial Panel on Multidistrict Litigation (JPML) issued a transfer order on October 13, 2015 to centralize all federal Zofran claims into a multidistrict litigation (MDL). The MDL is pending in the U.S. District Court for the District of Massachusetts, where it is proceeding under the direction of Judge F. Dennis Saylor.
To date, about 50 plaintiffs have filed Zofran lawsuits against the manufacturer GlaxoSmithKline (GSK). Prior to the transfer of these lawsuits into Massachusetts federal court, they were pending in more than 20 different federal courts across the country.
Zofran (ondansetron) is a medication approved for the treatment of nausea and vomiting caused by chemotherapy and radiation therapy in cancer patients, as well as for nausea caused by surgery.
However, like all medications, it's not unheard of for a doctor to prescribe this drug for other patients who suffer from nausea and vomiting, such as women who are pregnant. Plaintiffs who filed lawsuits against GSK allege that the drug caused birth defects when used during pregnancy and that the defendant did not provide adequate warning of these risks.
GSK requested consolidation
Early in July 2015, GSK filed the request to establish an MDL. GSK requested that the JPML transfer all federal cases to the U.S. District Court in Pennsylvania, as this state is home to the headquarters of GSK. Counsel for many of the plaintiffs with pending Zofran lawsuits agreed with the idea of establishing an MDL, yet suggested alternative venues. Some of the plaintiffs argued that establishing the MDL in Pennsylvania would give GSK an unfair advantage and that this particular federal court was already overburdened with pending cases. Instead, they suggested venues such as Ohio, California, Alabama, Illinois, Louisiana, and Massachusetts.
The JPML heard oral arguments from the parties on October 1 and issued a transfer order not long afterward. The order established Massachusetts as the venue, stating that Judge Saylor had experience as a transferee judge and was not overly burdened with cases. The JPML also determined that Massachusetts was an accessible district for all parties.
Plaintiffs allege Zofran linked to birth defects
It is not uncommon for additional lawsuits to be filed later and added to an MDL as it proceeds. In time, it is possible that the MDL will include hundreds of plaintiffs. The Zofran lawsuits make similar allegations, including that the drug was inappropriately marketed for use by pregnant women and that the defendant failed to disclose the serious risks of Zofran. The birth defects alleged to be caused by the anti-nausea med include cleft palate and heart defects, such as  heart murmurs and septal defects.
While the clinical data are far from conclusive, there have been a few studies examining the possible link between Zofran and birth defects. A study published in the October 2014 issue of the medical journal Reproductive Toxicology determined that the use of Zofran during pregnancy was associated with a statistically significant increased risk of heart defects. And in a November 2011 study published in the medical journal Birth Defects Research Part A: Clinical and Molecular Teratology determined that cleft palates may be 2.37 times more likely to be diagnosed among children born to women who used the drug to treat morning sickness.