California Parents File Zofran Lawsuit Against GSK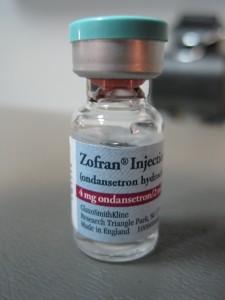 A Northern California couple has filed a Zofran lawsuit against GlaxoSmithKline on behalf of their young daughter. The parents seek compensatory and punitive damages, equitable relief and other relief deemed appropriate for the injuries their child sustained as an alleged result of her mother's use of Zofran during pregnancy.
The mother took Zofran to alleviate the symptoms of morning sickness and prevent them from recurring during her first trimester of pregnancy. When she gave birth in 2007, her daughter was diagnosed with congenital heart defects — specifically, an atrial septal defect. The young girl has undergone treatment, including a cardiac catheterization and placement of a septal occlude when she was just four years old.
The claim notes that the child was exposed to Zofran in utero when each of the relevant tissues was forming and susceptible to developmental insult from environmental exposure. This is no genetic explanation for her condition, as her family has no history of any of the birth defects she suffers from.
GSK accused of deceptive marketing
The mother was not aware of the dangerous nature of the drug when she ingested it during pregnancy, according to the claim. She accuses GSK of engaging in fraudulent marketing practices to promote it to pregnant women, like herself. The claim notes that if the mother or her healthcare providers had been informed of the risk of birth defects associated with Zofran, she never would have taken the drug while pregnant and her daughter wouldn't have been born with congenital malformations.
"As a direct and proximate result of GSK's conduct, Plaintiffs have suffered and incurred harm including severe and permanent emotional and physical pain and suffering, mental anguish, medical expenses and other economic and noneconomic damages," states the claim.
Plaintiffs sue on 10 counts
The lawsuit includes 10 counts against GSK, including:
Strict Products Liability — Design Defect and Failure to Warn
Negligence
Breach of Express Warranty
Intentional Misrepresentation
Breach of Implied Warranty of Merchantability and Fitness for Particular Use
Negligence Per Se
Concealment
Negligent Misrepresentation
Deceptive Trade Practices and Consumer Protection Act, M.G.L. c. 93A, Violations
Violation of Cal. Bus. & Prof. Code §§ 17200, ET SEO. And §§ 17500, ET SEQ.
Birth defects blamed on Zofran
Zofran (ondansetron) is FDA-approved to prevent nausea and vomiting caused by cancer chemotherapy, radiation therapy and surgery. It is part of a class of medications known as 5-HTC receptor antagonists and work to effectively block the action of serotonin — a natural substance that can cause nausea and vomiting. The drug has not been approved for use by pregnant women, but some doctors prescribe it "off label" to combat morning sickness.
In addition to alleged side effects infants in the U.S. have suffered as a result of their mother's use of the drug during pregnancy, at least 20 Canadian babies have suffered serious side effects from Zofran, according to a report in the Toronto Star. This included two infant deaths and numerous cases of children born with heart defects and kidney malformations.
At present, the FDA has labeled ondansetron a category B pregnancy drug, meaning that trials in animals suggest the drug will not harm an unborn child. However, according to the claim, the defendant has been aware that Zofran can cross the placental barrier during pregnancy, posing unknown risks to the fetus.