Zofran Lawsuit Alleges Illegal Marketing & Consumer Deception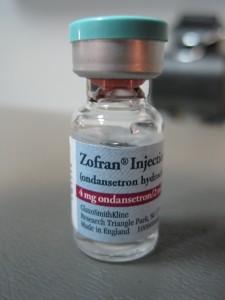 Manufactured by GlaxoSmithKline (GSK), the drug Zofran was first approved for use by the Food and Drug Administration (FDA) as ondansetron – an anti-nausea remedy in a class of medications known as a serotonin 5-HT3 receptor antagonists. The drug was first introduced to the market after FDA approval in January, 1991, and has been a top-selling product ever since. In fact, the World Health Organization placed ondansetron on its list of essential medicines necessary for basic health care.
Despite the apparent success of ondansetron and its brand name Zofran, concerns have been raised about the marketing practices implemented by GSK – particularly with regard to its alleged promotion of Zofran to pregnant women. In fact, ondansetron is only approved by the FDA for the treatment of nausea and vomiting associated with chemotherapy, radiation, and gastroenteritis – and some studies have suggested that the drug may present a risk of harm to a developing fetus when taken for the common pregnancy symptom known as "morning sickness."
In light of these concerns, Zofran lawsuits have emerged in various jurisdictions, including a recent Zofran heart defect lawsuit filed on July 24, 2015 in United States District Court for the District of Delaware.
Allegations set forth in Hill v. GlaxoSmithKline
In the sprawling 61-page complaint, the plaintiffs – who are co-parents to a child allegedly injured by the prenatal use of Zofran – raise startling factual assertions against GSK, including the contention it knew of the dangerous propensities of Zofran and continued to market the drug to unsuspecting pregnant women nonetheless.
The complaint begins by highlighting the alleged off-label marketing of Zofran. First, the plaintiffs assert that GSK was made aware of heightened prenatal risks as early as the 1980's when it allegedly first received preclinical data showing that the drug has the ability to cross the placental barrier. The plaintiffs then point to a study that revealed "the placental transfer of Zofran during human pregnancy at concentrations high enough to cause congenital malformations has been independently confirmed and detected in every sample of fetal tissue taken."
From there, the plaintiffs contend that GSK allegedly received reports as early as 1992 that Zofran could cause birth defects in human fetuses. Allegedly, by the year 2000, GSK had received over 30 complaints of Zofran-induced "congenital heart disease, dysmorphism, intrauterine death, stillbirth, kidney malformation, congenital diaphragmatic anomaly, congenital musculoskeletal anomalies, and orofacial anomalies, among others."
The complaint continues by listing several epidemiological studies of the impact of Zofran on developing human fetuses – revealing "elevated risk ratios" for test subjects exposed to Zofran versus those without exposure.
Plaintiffs claim link between Zofran and birth defects
As a result of the above-described alleged data linking Zofran to severe birth defects, the plaintiffs here contend that their children – having developed as twins – were harmed as a direct result of the mother taking Zofran to control the symptoms of morning sickness during pregnancy. More specifically, the plaintiffs allege that Zofran caused severe and permanent birth defects in one child, and the untimely demise of their second child, who lived for just a few short weeks after delivery.
Having learned of the risks of Zofran after their traumatic experience, the mother contends she would have never taken the drug or exposed her developing fetuses to its alleged harmful effects.
Accordingly, the plaintiffs have alleged a series of causes of action, including:
Negligence
Negligence per se
Strict products liability
Fraudulent misrepresentation
Fraudulent concealment
Negligent misrepresentation
Breach of express warranty
Breach of implied warranty
Violations of the Delaware Consumer Fraud statute
Loss of consortium
Wrongful death
Survival Act claim
The plaintiffs are seeking both actual and general damages, including compensation for emotional turmoil, loss of companionship, and mental anguish. Moreover, the plaintiffs are seeking punitive damages for the alleged intentional and purposeful acts of GSK, contending that the drug maker committed egregious acts of misconduct by failing to disclose the alleged known risks of Zofran to expecting parents.