Tennessee Family Seeks $10 Million in Xarelto Fatal Bleed Lawsuit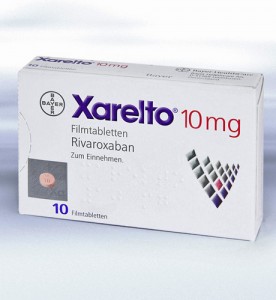 A Tennessee family filed a Xarelto fatal bleed lawsuit in the U.S. District Court for the Eastern District of New York on August 14, 2014. The case is one of many against drug manufacturer Janssen, a subsidiary of Johnson & Johnson. In the first quarter of 2013, the 680 formal complaints regarding Xarelto side effects and uncontrolled bleeding officially surpassed the 528 similar complaints tied to drug Pradaxa, which is currently at the center of $650 million settlement talks.
Patients take anticoagulants like Xarelto and Pradaxa to prevent blood clots, pulmonary embolism, and stroke. However, Xarelto lawsuits paint the portrait of a drug that was rushed to market without adequate testing or warning of the risks associated with its use.
Xarelto fatal bleed lawsuit details
According to the lawsuit, 92-year-old Charles Griggs began using Xarelto in May 2013. He used the drug for just three months before suffering from life-threatening bleeding on August 25, 2013. He succumbed to his injuries on December 6, 2013. His sons, Harry and Joseph, are suing for $10 million dollars to compensate for wrongful death, personal injuries, pain, suffering, and emotional distress.
The Griggs family alleges that the defendants used direct-to-consumer advertising touting the benefits of new class anticoagulants, while failing to provide warnings of the bleeding complication risk.
Specific causes of action named in the lawsuit include:
Negligence – for failing to exercise reasonable care in the "designing, researching, manufacturing, marketing, supplying, promoting, packaging, sale and distribution" of Xarelto.
Strict product liability – for bringing a drug to market that was in an "unsafe, defective, and inherently dangerous" condition.
Breach of express warranty – for expressly warranting that Xarelto was "safe and well accepted by users."
Breach of implied warranty – for implying to physicians that Xarelto was "safe and of merchantable quality."
Fraudulent misrepresentation – for claiming the product was tested, safe and effective for its intended purpose.
Fraudulent concealment – for recklessness and the knowledge that their product representations were false.
Negligent misrepresentation – for making false representations to consumers and health care providers.
Fraud & deceit – for "blatantly and intentionally distributing false information."
Wrongful death – for demonstrating "a complete disregard and reckless indifference to the safety and welfare of the general public and to the decedent in particular."
New class anticoagulants lack antidote for adverse bleeding events
Xarelto (rivaroxaban) is part of a new generation of anticoagulants called direct thrombin inhibitors. Unlike old vanguard medications like Coumadin (warfarin), there is no need to monitor the blood or omit vitamin K from the diet while taking Xarelto.
The family's Xarelto lawsuit cites a large clinical trial dubbed "Rocket AF" concluded that, despite the effectiveness of Xarelto compared to warfarin, "bleeding from gastrointestinal sites, including upper, lower, and rectal sites, occurred more frequently in the rivaroxaban group, as did bleeding that led to a drop in the hemoglobin level or bleeding that required transfusion."
While the makers of warfarin have put forth an antidote to reverse bleeding should it occur, no such antidote exists for drugs like Xarelto or Pradaxa. The manufacturers say they are "looking into a remedy," but it's already much too late for families like the Griggs, who have already lost a loved one.